VIDEO: Watch Red Hot Chili Peppers & Post Malone's GRAMMY performance
11 February 2019, 15:01 | Updated: 11 February 2019, 15:06
See the Californication rockers sing their Dark Necessities hit with Post Malone at last night's awards ceremony.
Red Hot Chili Peppers took part in a special performance at the 61st annual GRAMMY Awards last night (Sunday 10 February).
Anthony Kiedis and co joined forces with US rapper and singer-songwriter Post Malone for a rendition of Dark Necessities, which is taken from the California funk rockers 2016 album The Getaway.
Watch them perform the track in a clip above, courtesy of CBS and The Recording Academy.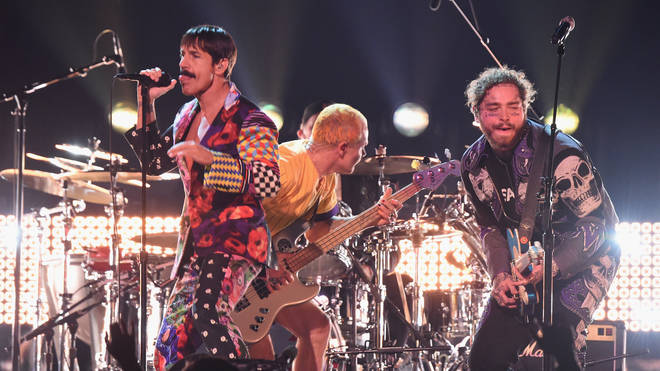 Before the performance, Post Malone played his hit tracks beerbongs and bentleys, Stay and rockstar.
Meanwhile, Red Hot Chili Peppers have revealed the reason for their 12th album being "halted".
Drummer Chad Smith spoke to SiriuxXM about the band's new material and and explained that the natural disaster which spread through the southern half of the state causing death and destruction last year, also affected the band's progress.
"We started to work on it, which for us is just getting in a room and making some noise and like putting some notes together," the sticksman explained to Sirius XM's Volume West.
"And then the fires came, and the house we were working in – there was no damage, it didn't burn down, but we couldn't get back in there. So that halted our... [progress]."
READ MORE: The truth about Will Ferrell and Red Hot Chili Peppers' Chad Smith
Red Hot Chili Peppers are set to play Egypt's famous pyramids in Giza next month.
The One Hot Minute rockers are about to get even hotter, heading to the historical landmark and wonder of the world on 15 March 2019.
Watch the evolution of Red Hot Chili Peppers below: