Queen legend Freddie Mercury's huge private collection to go up for auction
26 April 2023, 12:06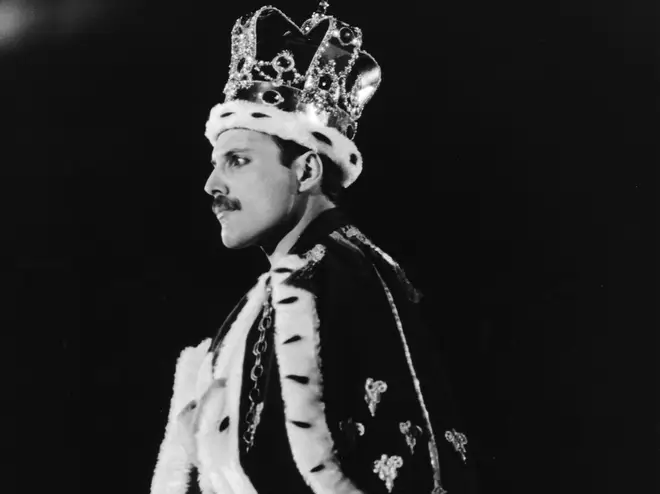 1,500 items in the late Queen frontman's collection will go under the gavel over 31 years after his passing.
An extensive collection of Freddie Mercury's belongings is set to go up for auction.
Items owned by the late Queen frontman, who died of complications due to AIDS on 24th November 1991, will go under the hammer for hundreds of thousands of pounds.
The items, which will be held at an exhibition before they are auctioned, include Mercury's iconic cloak and crown, which are estimated to fetch £60,000 - £80,000.
Also up for grabs is the rock star's favourite waistcoat - last seen in the last video he shot with the band 1991's These Are The Days Of Our Lives - which is expected to fetch between £5000 and £7000.
Elsewhere, the handwritten lyrics for Killer Queen and We Are The Champions are estimated to raise between £50,000 - £70,000 and £200,000 - £300,000 respectively.
Other pieces of memorabilia include include a silver Tiffany & Co. Moustache comb, the bakelight phone Freddie kept beside his bed, Victorian paintings, a Fabergé gem-set and more.
READ MORE: Freddie Mercury's leather hotpants go up for auction
The full exhibition of Mercury's collection will take place at Sotheby's in London between 4th August and 5th September this year and will be preceded by a touring exhibition of sale highlights, which will visit New York, Los Angeles and Hong Kong.
The full collection as well as a collection book is available on the Sotherby's website.
The auction calendar will comprise of six themed events: three live sales in London, followed by three online sales.
"Freddie Mercury's sensational life has left us with a rich array of artistic moments that still move and astound us, a legacy that, like his music, will live on forever," says Sotheby's Europe Chairman Oliver Barker. "As Sotheby's is transformed into the stage for this remarkable collection, the focus will be as much on Freddie Mercury the showman, celebrating everything we already know about him, as on discovering his less well known private artistic passions. 
"Fittingly lavish in scale, the auction will bring together the expertise of specialists from 30 different collecting categories, and see exhibitions held in four locations across three continents - all culminating in the longest, most spectacular, public exhibition in our company history. How else could we celebrate the legend that is Freddie Mercury?"
See Freddie Mercury Collection exhibition dates:
1st - 8th June 2023: Sotheby's New YorkJ
14th - 18th June 2023: Sotheby's Los Angeles
26th - 30th June 2023: Sotheby's Hong Kong
4th August - 5th September 2023: Main Exhibition, Full Collection Sotheby's London
READ MORE - Brian May on Bohemian Rhapsody sequel: "We've been talking about it"
See the Freddie Mercury Collection auction dates:
"The Evening Auction"
London Live Auction, 6 September, 5pm (ticketed event)"
On Stage"
London Live Auction, 7 September, 12 noon 
"At Home"
London Live Auction, 8 September, 12 noon 
"In Love with Japan"
Online Auction, 1 – 11 September, 12 noon 
"Crazy Little Things"
Part One Online Auction, 1 – 12 September, 12 noon 
"Crazy Little Things"
Part Two Online Auction, 1 – 13 September, 12 noon
Brian May Answers His Most Googled Questions | According to Google | Radio X
READ MORE: The best Queen songs of all time