Morrissey Prefers His Solo Albums Over The Smiths
17 April 2018, 12:35 | Updated: 17 April 2018, 14:14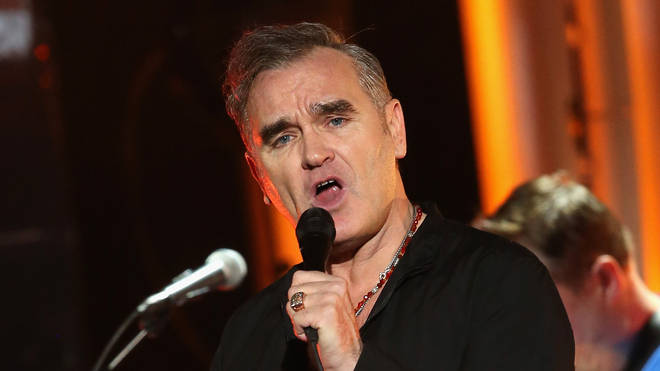 The years of the legendary Manchester band "was a great but simplistic time", says the singer in a controversial interview.
Morrissey has claimed that he no longer listens to The Smiths, preferring his solo albums over the work of the Manchester band.
Speaking in a new interview on the new official website MorrisseyCentral.com, the singer was asked if he still listens back to the music he made with Johnny Marr, Andy Rourke and Mike Joyce.
"No. It was beautiful, but it's gone." He went on to say that his "pride" was with his later solo albums, including the latest LP Low In High School, released last year and 2004's You Are The Quarry.
He added: "They are me, whereas The Smiths was a great but simplistic time."
When asked why he didn't include the first two solo albums - Viva Hate and Kill Uncle - Morrissey revealed: "I wasn't ready. I rushed in too quickly. It was my fault."
Asked again about accusations of racism, which keep appearing in sections of the press, Morrissey replied:
"As far as racism goes, the modern Loony Left seem to forget that Hitler was Left wing!
"When someone calls you racist, what they are saying is 'Hmm, you actually have a point, and I don't know how to answer it, so perhaps if I distract you by calling you a bigot we'll both forget how enlightened your comment was'."
His words have already attracted many comments on Twitter:
Morrissey interview in which he 1) tries on the old 'Hitler was left wing' stuff 2) claims Halal meat certification can only be done by Isis supporters 3) assets Sadiq Khan cannot speak properly and 4) spouts some mad UKIP balls about acid attacks. pic.twitter.com/YELBqdDva0

— John Niven (@NivenJ1) April 17, 2018
I believe Morrissey has said a number of unpalatable things in this interview. Unfortunately, I can't read it due to a pledge made on here to stop listening as soon as someone uses a particular phrase, and he's used it bang at the top. pic.twitter.com/5c1YdD6GD8

— David Baddiel (@Baddiel) April 17, 2018