Has Liam Gallagher Made up With Alex Turner After 'American' Accent Jibe?
20 August 2018, 11:03 | Updated: 20 August 2018, 19:52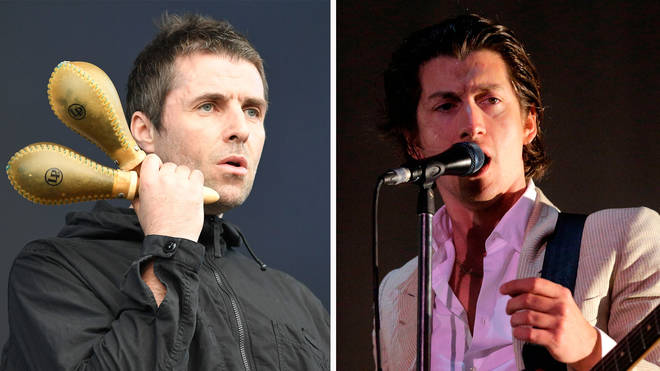 It has been reported that the former Oasis frontman had beers with the Arctic Monkeys rocker at this year's Sziget festival.
Liam Gallagher has reportedly made peace with Alex Turner after accusing him of having an American accent.
According to The Sun, the former Oasis rocker spent time with the Arctic Monkeys' frontman downing pints at Sziget festival in Budapest, Hungary.
"Liam has definitely mellowed over the past year, particularly since reuniting with his daughter Molly," a source told the outlet.
"He's realised that sometimes he is too quick to speak before thinking things through.
"He really took a shine to Budapest and was in a top mood when he bumped into Alex at Sziget Festival."
The source added that the pair buried the hatchet by downing pints "at local hotel until the early hours, drinking and talking about music".
Last year, Gallagher singled out Alex Turner when talking about bands who adopt transatlantic accents.
Speaking to the BBC, he said: "The singing's alright for me, you know what I mean? It's when they do an interview later on down the line, and they've been to America once, and they come back speaking American.
"They're the ones. Like the geezer from the Arctic Monkeys.
"He did it, didn't he? He started getting his hair in a quiff and putting biker leather jackets on."
Watch Arctic Monkeys play From The Ritz To The Rubble At Royal Albert Hall:
Liam Gallagher headlined the inaugural RiZE festival this weekend before playing a homecoming gig at the Lancashire County Cricket Club.
His Manchester set featured a surprise appearance from bessie mate and former Oasis bandmate Bonehead, who joined him on stage for Supersonic, Some Might Say and Cigarettes and Alcohol.
Watch Liam Gallagher play Some Might Say live for Radio X: