Liam Gallagher Just Slated Alex Turner's 'American Accent'
7 November 2017, 17:30 | Updated: 20 August 2018, 19:46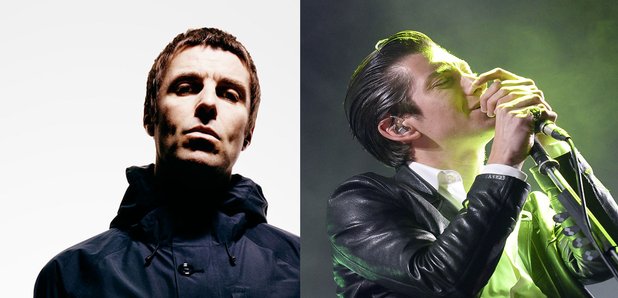 The outspoken rocker brought up the Arctic Monkeys frontman when talking about bands who come back from the States with a drawl.
Liam Gallagher has slammed Alex Turner's apparent American drawl.
The 44-year-old rocker has mocked the Arctic Monkeys frontman, who is originally from Sheffield, and accused him of developing an American/English accent.
The former Oasis frontman joked that the 31-year-old singer an mocked the R U Mine? singer's Elvis quiff and style.
When asked about singing in his accent by the BBC, Liam replied: "Yeah, the singing's alright for me, you know what I mean?
"It's when they do an interview and that later on down the line and they've been to America once and they come back and they start speaking American, you know what I mean?
"Like the geezer out of the Arctic Monkeys. He did it didn't he? He started getting his hair in a quiff and biker leather jackets on, you know what I mean?
"It's like when he goes back to his mam's does he really walk in with that biker leather jacket on and go (puts on American accent): 'Hey mom, can I have some tea?'
"She's going to give him a clip isn't she?"
Meanwhile, Liam Gallagher appeared with his mum Peggy and son Gene for a celebrity special of Gogglebox, where the rocker revealed that neither him nor his brothers Noel or Paul can swim.
Watch Channel 4's clip here:
The Stand Up 2 Cancer special - which saw the Oasis legend alongside his mum Peggy and his son Gene - also featured the likes of Ed Sheeran and Jeremy Corbyn.
Meanwhile, Gallagher has added two new outdoor dates to 2018.
Tickets for both shows are available to buy now.
Two weeks later the Oasis legend head down the road from his home in Highgate to play the north London park on 29 June.
Photo credit: Press/BERTRAND GUAY/AFP/Getty Images