PHOTOS: Liam Gallagher Takes Daughter Molly On Family Holiday
30 July 2018, 11:11 | Updated: 30 July 2018, 11:13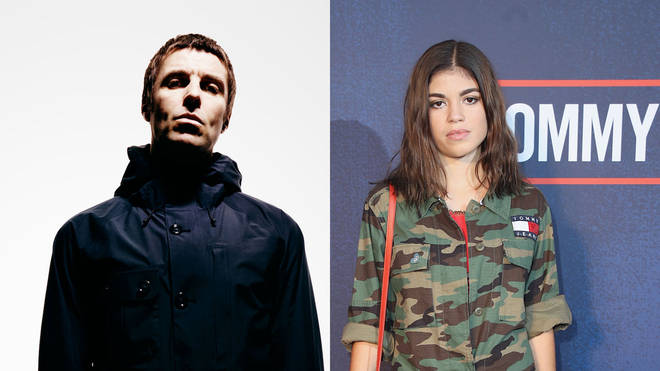 The former Oasis frontman jetted off with his formerly estranged daughter, sons Lennon and Gene, girlfriend Debbie, brother Paul and mum Peggy.
Liam Gallagher has been spending more time with his previously estranged daughter Molly Moorish, taking her on a family holiday.
The former Oasis rocker hadn't ever met his daughter - who he shares with Lisa Moorish - for 19 years, but has been making up for lost time since first meeting her in 2018.
This weekend saw the Wall Of Glass singer take off a trip writing on Twitter: "Rite then magaluf it is as you were LG x".
Rite then magaluf it is as you were LG x

— Liam Gallagher (@liamgallagher) July 28, 2018
The rocker followed the tweet with a snap which saw him stood in front of a private jet with Molly, Lennon, Gene, his brother Paul, his girlfriend Debbie Gwyther and his mother Peggy.
See the photo here, which was captioned: "Anybody want owt from the shops? LG x".
One image sees the Paper Crown singer and his daughter posing with his son Gene, who he shares with ex-wife and All Saints singer Nicole Appleton.
A snap shared on Molly's Instagram account sees her pose with her half brother's Lennon and Gene, who she grown close to since they met this year.
Another sees Gallagher larking about on the jet, throwing bunny ears behind his smiling daughter.
More images on social media see the family posing for pictures on the jet, with Liam Gallagher giving holding two fingers up to camera as his girlfriend Debbie shows a peace sign.
Liam Gallagher first reunited with his daughter in May, sharing an image of their reunion with an image which is still pinned to his Twitter.
Meanwhile, Liam has told fans they can throw anything on his stage apart from fish.
Addressing the crowds at Stimmen Festival, which takes place in Lörrach, Germany the former Oasis rocker joked to the energetic crowd: "None of you have got no fish have you?
"It's just not happening with the fish.
Throw anything else, but no fish!"
Watch footage of the moment in a video shared on Instagram by the_wanderer_basel_17.
Liam's quip came after someone threw a "stinky fish" on stage when he played Benicàssim.
See the moment he kicked off here: