WATCH: Johnny Marr plays The Smiths Cemetery Gates on Instagram
22 April 2020, 19:18 | Updated: 22 April 2020, 19:21
The former Smiths guitarist gave his fans a rendition of The Queen Is Dead album track during an Ask Me Anything on Instagram.
Johnny Marr has treated his fans to a short rendition of his Cemetery Gates track.
The former Smiths guitarist was taking part in an Ask Me Anything on Instagram, when one fan asked if he could play his iconic guitar part to the album track from The Queen Is Dead.
Naturally, Marr obliged and played the guitar part to the much-loved track, which you can watch above.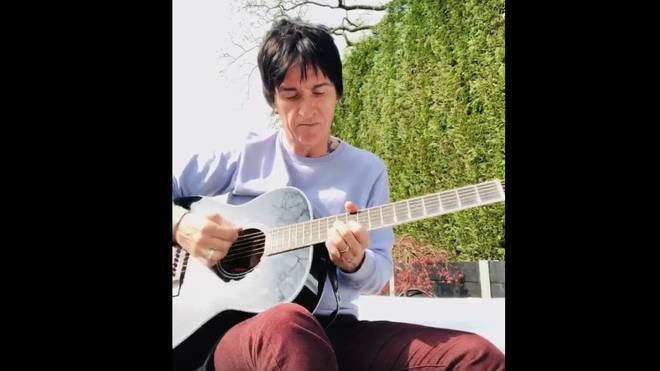 Marr's not the only musician who's been performing for fans during lockdown.
Biffy Clyro's Simon Neil has been taking part in Facebook Live sessions, Courteeners frontman Liam Fray took part in a live gig earlier this month, and Queen's Brian May and Roger Taylor have been offering up tutorials on their parts.
After the legends got together to play We Are The Champions, fans called for their touring singer Adam Lambert to join them on vocals, and they obliged - sharing a performance which included all three of them this week.
Meanwhile, Brandon Flowers has talked about his decision to feature The Smiths' Johnny Marr in The Killers' 2019 Glastonbury set, saying: "I don't think Marr should be held back because of Morrissey, so I don't regret it."
However, asked if he's able to separate Morrissey's political views from his art, he told The Sunday Times newspaper: "It is difficult to separate it from him, and I'm not going around playing the music in front of my kids, but..."
However, while he won't go out of his way to play Morrissey music for his kids, he revealed he wouldn't rush to turn it off if it was on the radio.
The All These Things That I've Done singer explained: "Pick a song! Pick 'What She Said'. If 'What She Said' came on the radio with my kids, I wouldn't change it. It's still an amazing song, so I'm not that serious, where I would change the station."
The Las Vegas singer, who has Ammon, 12, Gunnar, 10, and Henry, nine - also insisted he won't destroy his Smiths CDs, despite his opposition to Morrissey's views, adding: "I don't agree with him, but I'm not going to burn my CDs by the Smiths or anything."
WATCH - The Killers sing Mr. Brightside at the One World: Together At Home gig