Watch Dave Grohl Down His Beer Like An Absolute Pro
26 April 2018, 15:16 | Updated: 26 April 2018, 15:18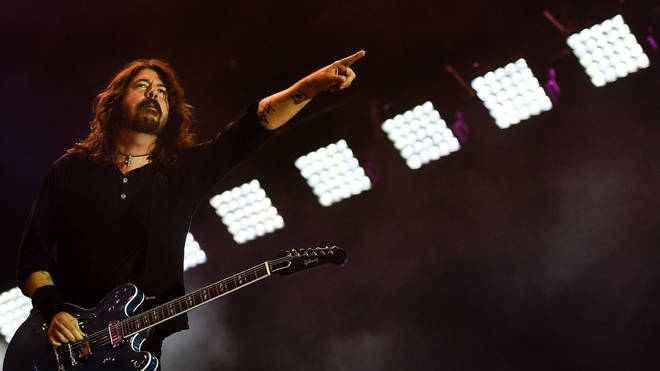 See the Foo Fighters frontman chug a can live on stage at the band's gig in Louisiana.
Dave Grohl shook off his dad rock title this week by showing off his beer-downing skills.
The Foo Fighters were playing a show at Bossier City, Louisiana on Sunday (22 April), when the rocker took a break to refresh himself with a beverage.
Holding a can of Coors Light beer he joked to the crowd: "Pardon me while I have my rock medicine," before downing the drink in one.
See him in action here, in a video shared by Instagram user, overj0yed.
Please drink responsibly.
For tips and advice please visit www.drinkaware.co.uk
However, Grohl was happy to play Dad last week when a fan asked him to be his adoptive father.
The frontman was just about to launch into the band's Big Me track at their show at Cynthia Woods Mitchell Pavilion in Houston, Texas, when he noticed a fan holding up a sign in the front row which read "NO DAD - BE MINE?"
Addressing the fan, who was named Landon, the rocker joked: "What? Dude, I have three kids. You wanna be my fourth kid?"
However the nicest man in rock soon conceded and told the crowd: "For the next four minutes. I'm gonna f***ing, I'll be your daddy".The rocker then launched into the band's 1996 Big Me single, instructing the audience: "Sing it one more time for my adopted son!"

Watch the moment in a video posted on YouTube by Space City Shows here:
Fans on this side of the pond can no doubt look forward to more action from the My Hero singer when the Foo Fighters play stadium dates in the UK this summer.
See Foo Fighters' 2018 UK stadium dates below:
Tuesday 19 June - Manchester Etihad Stadium
Friday 22 June - London Stadium
Saturday 23 June - London Stadium  
Find out why Dave Grohl's mum wasn't a fan of Chris Moyles