WATCH: Chris Moyles' Security Nearly Beat Up Dave Grohl
27 September 2017, 16:42 | Updated: 20 December 2017, 16:58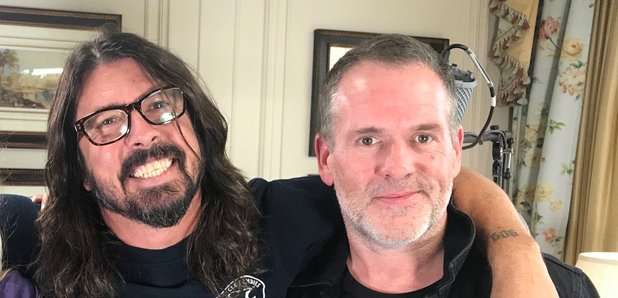 The Foos frontman recalled the time he was almost "taken out" when he tried to surprise the Radio X DJ.
Dave Grohl has told the story of how Chris Moyles' security mistook him for a crazed fan.
Recalling the incident during a special interview with the Radio X DJ which aired earlier this week, the frontman said: "The last time we had drinks together, I was almost taken out by a navy seal".
Watch it here:
Grohl added: "He was this close to being assassinated, that he would go to a local pub with a navy seal".
Moyles then filled in the blanks, explaining to a very amused Taylor Hawkins: "So you guys played in Brighton. We all stayed in Brighton. It was a warm evening.
"We were outside the hotel having a few cigarettes, having a few drinks and Dave sees me and goes, 'Oh there's the guy from the radio. I'll go and surprise him'.
"[He] puts his hood up and just goes 'argh' gets to there... and the security guard who I've known for years, who's always with us literally goes BAM.
"Dave's pinned on the table."
If that wasn't bad enough, it turns out Grohl's mum was there to witness her son being roughed up too.
Moyles added: "And just when I think we might get out of this, Dave goes: 'It's alright mom. It's his security'".
The Foo Fighters rockers also revealed in the no-holds-barred chat that all their wives fancied Justin Timberlake and wanted to visit the studio when they heard he was appearing on the album.
Find out more:
Foos drummer Taylor Hawkins had plenty of praise for the Suit & Tie star, saying: "There's a reason that dude's still around. To break out from that… boy band dude makes it out into a serious career, that's like a drummer becoming a lead singer. And Dave and him together, those guys have similar personalities…"
Dave mused: "Sure… I feel like I'm kind of handsome like him, I can dance like him," before his bandmate interjected: "All of our wives think he's hot..."
"THAT's the thing," Dave joked. "Our wives were like, 'When is Justin gonna be at the studio? Is he coming tomorrow? Do you think we could come?'"
Watch the full Chris Moyles Meets Foo Fighters interview here: