Foo Fighters Tease Nirvana Reunion
4 October 2018, 11:08 | Updated: 8 October 2018, 12:11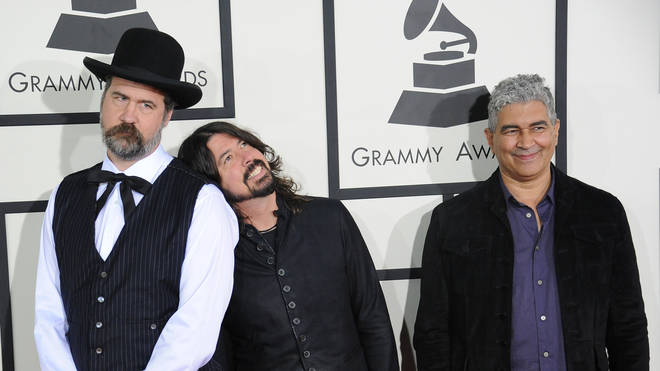 The Learn To Fly rockers have hinted that fans could be in for a special treat at this weekend's CalJam festival.
Foo Fighters have teased that a mini Nirvana reunion, without the late Kurt Cobain, could be set to take place at their upcoming CalJam festival this weekend.
The Everlong rockers left fans speculating about a possible performance at music event, after sharing an announcement that Joan Jett would be playing the event.
Posting the tweet, they wrote: "CAN'T WAIT!!!! What else could we have up our sleeves?? Stay tuned.... #CalJam18".
The I Love Rock & Roll singer previously joined the surviving members of Nirvana Dave Grohl and Krist Novoselic for a special performance in 2014 when the band were inducted into the Rock and Roll Hall of Fame.
Courtney Love also attended the event and seemed to quash any rumours of a feud with the rockers by hugging them on stage.
To add fuel to the flames, Foo Fighters shared a clip of the mini Nirvana reunion with Joan Jett with the caption: "'This is a Jam @caljamfest#CalJam18".
Nirvana was formed by the Kurt Cobain and Krist Novoselic in 1987, before Dave Grohl joined in 1990.
Foo Fighters guitarist Pat Smear joined the band on tour from 1993-1994.
With all three at the festival this weekend (Novoselic is named on the line-up with his band Giants In The Trees.
The surviving members of Nirvana recently reunited in the band's hometown of Seattle when Novoselic, Grohl and Smear performed a cover of Vaseline's Molly's Lips.
Originally recorded by Scottish indie band The Vaselines, who were a favourite of Kurt Cobain's, the song was performed live by Nirvana on a number of occasions (including their 1991 Reading festival set) and appeared on a Sub Pop single, before ending up on the compilation Incesticide.
Watch Dave Grohl reveal the best gig Foo Fighters have played: