Taylor Hawkins: I'd Be Delivering Pizza If It Wasn't For Alanis Morissette
30 June 2018, 06:00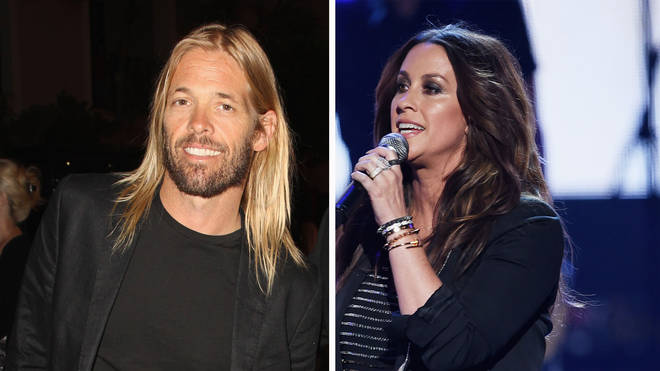 The Foo Fighters drummer has thanked the Canadian singer for his "big break" and pleaded for a reunion.
Taylor Hawkins has credited Alanis Morissette with giving him his break.
The Foo Fighters sticksman praised the Canadian singer-songwriter in a recent interview and shared his dreams for a Jagged Little Pill live reunion.
Recalling how he got his start by drumming for her on stage, he told Matt Wilkinson on Beats 1: "You know I owe so much to her. For giving me that space to be a show off! So I watched a couple of these songs and she was/she is (I haven't seen her in a long time, I don't know her really anymore) but she was great!"
The Learn To Fly rocker continued: "When I joined the Foo Fighters I came from this, what they would consider pop pedigree almost, and they all came from these really cool punk bands and stuff - Dave's from Scream and Nirvana, Pat's from Germs, Nate's from this weird, indie, cult band Sunny Day Real Estate - and I'm from Alanis Morissette! And so I was a little embarrassed by it but time heals all those things and I watch us back then and we were great!
"And I listen to her sing and her lyrics and I'm like, 'she was really amazing'...When it was the 20 year anniversary of the album ['Jagged Little Pill'], I really was hoping we could get the original band back together and do like, 5 nights [of shows]. I think it's 25 years coming up soon… I'm reaching out through Beats, come on Alanis! I love and I miss you. Thank you for my big break because I wouldn't be here if it wasn't for her. I'd be delivering pizza if it wasn't for her!
Find out how Taylor Hawkins became part of Foo Fighters here:
Meanwhile, Dave Grohl has revealed he knew he'd be "best friends for life" with the drummer.
Speaking to Radio X's Gordon Smart ahead of Foo Fighters' gig at Manchester's Etihad Stadium last week, the frontman recalled a drinking game between them when he first joined the band.
The Everlong rocker revealed: "He doesn't drink any more but I do remember when he first joined the band, we were like in love with each other. The first time we had a beer together, we were like, we're gonna be best friends for life. And it's true, we're like this."
Grohl continued: "So he joins the band, and I had him come over to my house in Los Angeles and we sat in front of my stereo and we played records, with a bottle of tequila.
"We'd do a shot of tequila and listen to a song, do a shot of tequila and listen to a song, do a shot… And the he started saying, let's do two in a row, so he'd do two tequilas in a row, then listen to a song… then we'd do three in a row and he went, Hold on… and he went to the bathroom and just threw up all over the place.
"He came back and said, right let's do FOUR in a row…"