LISTEN: Foo Fighters' Kids Make Father's Day Playlist
18 June 2018, 14:17 | Updated: 19 June 2018, 10:05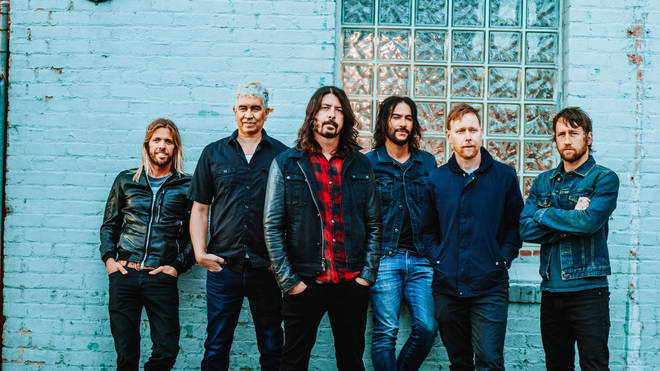 The rockers' offspring have selected tracks for a playlist, which includes everything from Queen to Bob Dylan.
The children of Foo Fighters have created a playlist as a special gift Father's Day on Sunday (17 June).
The information on the playlist, which is entitled Happy Foother's Day, read: "While the Foos are away in Paris, the Foo kids have created a playlist full of dedications to *their* dads. Happy Father's Day to all the dads out there. From our families to yours."
Some of the artists included are Queen, Bob Dylan, Green Day, AC/DC, and Grohl's recent favorite Lil Pump.
Listen to it here on Apple music and spotify below:
Foo Fighters are set to continue their European tour dates this week, playing Manchester's Etihad Stadium on Tuesday (19 June), before heading to the London Stadium on Friday 22 and Saturday 23 June.
To celebrate, this Sunday 24 June will be FOO FIGHTERS DAY on Radio X!
All day, you can choose your favourite Foo Fighters tracksFrom 1pm you'll be able to hear Dave Grohl talking to Gordon Smart… recorded just before their Manchester gig.
And at 7pm, you can hear the full set from their show from Manchester's Etihad Stadium.
Plus Chris Moyles will be giving away tickets to their Manchester show.
Watch Dave Grohl rap a Lil Pump song:
With Dave Grohl and co having plenty of friends on this side of the pond, it's very possible we could see the band invite famous British artists on stage.
Watch the moment Rick Astley joined them on stage at The O2, London:
Dave Grohl recently dubbed the 80s legend one of the "nicest" people he's ever met.
The nicest man in rock was asked to pit himself against the Never Gonna Give You Up singer and former US President Barack Obama, when he told GQ: "Well, I would defnitely take last".
Gushing about the crooner, he added: "Rick Astley without question is one of the nicest people I've ever met in my life.
"Barack Obama was also always wonderfully generous whenever we spoke with each other. He's very cool, you know."
The Lean To Fly rocker concluded: "Of those three I'd have to go with President Obama, you know considering his job was mabye a little more complicated then Rick Astley's... and he managed to keep his cool".