Dave Grohl Revealed Who's Nicest Out Of Obama, Rick Astley & Himself
4 August 2018, 10:41 | Updated: 5 August 2018, 12:02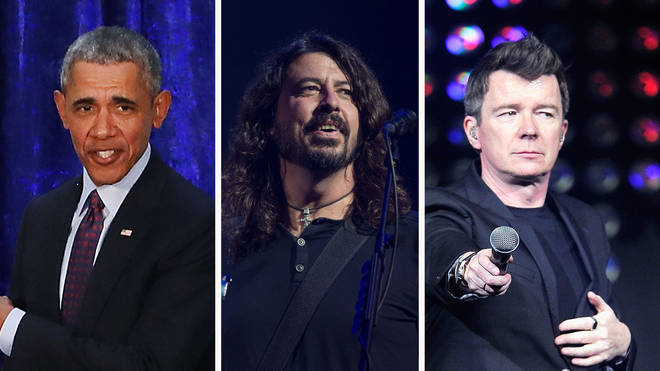 The nicest man in rock was asked to pit himself against the 80s icon and the former US President. Find out what he said here...
Dave Grohl has long been known as the nicest man in rock, but how does he fare outside of his genre?
In an interview with GQ earlier this year, the Foo Fighters frontman was asked to rank himself, Rick Astley and former US President Barack Obama in terms of kindness, and he had no real problem coming up with an answer, saying: "Well, I would definitely take last".
Gushing about the 80s crooner, he added: "Rick Astley without question is one of the nicest people I've ever met in my life.
"Barack Obama was also always wonderfully generous whenever we spoke with each other. He's very cool, you know."
The Lean To Fly rocker concluded: "Of those three I'd have to go with President Obama, you know considering his job was mabye a little more complicated then Rick Astley's... and he managed to keep his cool".
So Obama, followed by Rick Astley, followed by Dave Grohl it is!
Watch Rick Astley join Foo Fighters on stage at The O2, London:
The Foos rocker also also revealed that Jimmy Page is one of his top guitarists of all time.
He told GQ: "I loved the way that he was always teetering on the edge of total chaos but seemed to place every note in a space that drew emotion."
The Everlong rocker went on to cite an instrumental soundtrack by American legend Ry Cooder for 1984 film Paris, Texas as one of his favourite album's of all time.
Meanwhile, the former Nirvana drummer is set to help produce his mother's From Cradle To Stage docuseries, which is being made from her book of the same name.
According to Variety, the rocker is teaming up with Live Nation Productions as one of the executive producers for the project, which will see his mother's interviews brought to life.
The outlet adds that the series will include excerpts gathered from years of interviews with the mothers of the likes of Amy Winehouse, R.E.M's Michael Stipe and Tom Morello, as well as stories and snapshots from Dave Grohl's childhood and across his career.
Watch as Grohl's mum reveals his high school report to Stephen Colbert: