"It's a half truth": Biffy Clyro clear-up Nick Knowles' jamming story
12 December 2018, 21:42 | Updated: 12 December 2018, 21:46
The Many of Horror trio has re-lived the moment they met the DIY SOS star following his revelation on I'm A Celeb.
Biffy Clyro have responded to claims they jammed with Nick Knowles.
The DIY SOS star has just left this year's instalment of I'm A Celebrity.... Get Me Out Of Here! where he shared the story of how he came to get a record deal after performing with the band on a London rooftop.
Watch a clip of the moment above, courtesy of ITV.
However, speaking to the BBC, drummer James Johnston said: "He's been a bit fast and loose with the truth there.
"It was more like eight years ago, and it was after an awards ceremony. We came back to this hotel in Soho and we'd been informed that Nick Knowles had bought us a bottle of champagne to celebrate on the roof! He was lovely, we had a drink and we left and there might have been a guitar there."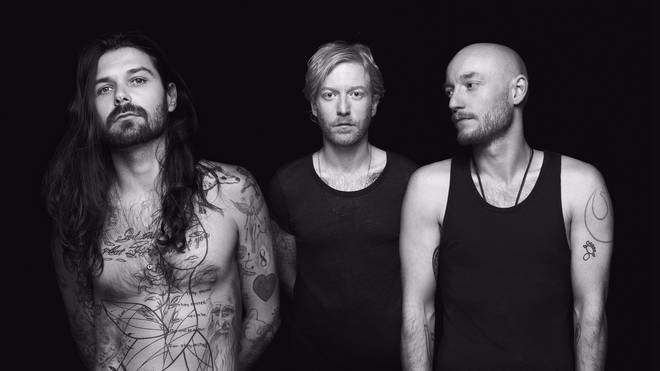 Johnston didn't deny any music wasn't played, but stressed that it wasn't a drawn-out or "proper heavy" performance.
"He was a nice guy! I'm not gonna say anything bad about him, Mr Nick Knowles, he was lovely," he explained."But I don't think it's quite the Kum Ba Yah situation that everyone might have in their heads. I'm really sorry to shatter the illusion that we had a proper heavy jam with Nick Knowles, because that did not happen I'm afraid.
"It's a half truth. We were in the same rooftop bar at the same time, and he was very nice."

The Scottish band have clearly seen the funny side, however, after sharing the hashtag #BiffyClyroNotEmbarrassedTheyJammedWithNickKnowles and a clip of themselves being discussed on the reality show.
Watch the clip courtesy of ITV below:
Meanwhile, Nick Knowles' cover of Bob Dylan's Make You Feel My Love has reached the top of the iTunes chart, thanks to a campaign by The Chris Moyles Show.
The Radio X DJ has been celebrating the music career of the DIY SOS star since he entered the jungle on ITV's I'm A Celebrity... Get Me Out of Here, and gave his listeners a special call to action.
Watch what happened in our video:
In his first interview after coming out of the jungle, Knowles thanked the Chris Moyles Show team and said he'd be giving any royalties to charity: