Tame Impala Respond To Alex Turner's Invitation To Collaborate
28 August 2018, 11:10 | Updated: 28 August 2018, 11:22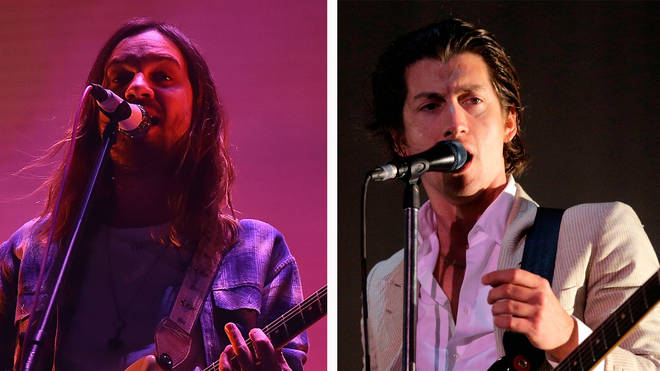 Frontman Kevin Parker has replied to Turner's request to "float" with him by making sweet music together.
Tame Impala's Kevin Parker has responded to Alex Turner's desire to collaborate.
In a recent Beats 1 interview, the Arctic Monkeys' frontman gushed about the Aussie band and their frontman, telling Matt Wilkinson: "I'd love to float with Kevin… Let's float Kev".
He added: "I think [Parker's] brilliant, no doubt about that."
When asked again by Wilkinson: "Is that an ask for Kev?", Turner replied, "Yeah I just said it twice — I'd float with Kevin."
Now, the Tame Impala frontman has responded to Alex Turner's kind words, simply telling Billboard: "Anything is possible."
Meanwhile, an Instagrammer has given fans the opportunity to own their own model of the Tranquility Base Hotel & Casino.
So much so that one fan has decided to make his own miniature replica of the model - and has shared the plans with everyone.Instagram user Santiago109 posted the following, demonstrating his handiwork.
Arctic Monkeys have described the moment they found out I Bet You Look Good on the Dancefloor reached number one on the UK charts was "unreal," especially since they were just down their local pub.
Watch the band play their best-known hit at the Royal Albert Hall here:
Asked by Beats 1's Matt Wilkinson about their early success and if there were any moments that felt "crazy," frontman Alex Turner replied: "We got a number 1 single with I Bet You Look Good On The Dancefloor and I would definitely catergorise that as a moment that felt unreal at the time.
"We all went to the pub near where we'd grown up and you know, they announced that it was the number one record, they put the radio on in the pub and everyone jumped up."
Asked if all their family were there, drummer Matt Helders confirmed: "Everybody," while Turner added: "Everybody was there - on the pool table like 'waheyyy!'"
Helders added about their 2005 single: "That was one where it was instant as well, we didn't know something and then all of a sudden we knew something. All the other things.."
When Wilkinson suggested it builds on what came before, the Brianstorm drummer added: "Yeh or you see it coming a little bit and can prepare a bit, but that one was a complete shock."
Watch Alex Turner explain how he thinks Tranquility Base Hotel & Casino is like their debut album Whatever People Say I am, That's What I'm Not: