What's The Story Behind Arctic Monkeys' Star Treatment?
7 July 2018, 09:30 | Updated: 25 July 2018, 17:40
Get the story behind the opening track to Tranquility Base Hotel & Casino from Alex Turner's own words.
Arctic Monkeys covered The Strokes' Is This It this week, paying homage to the New York rockers in their hometown.
But it isn't the first time Alex Turner and co have given a nod to the Last Nite rockers, choosing to namecheck them in their Star Treatment track.
But what exactly is the song about?
Listen to it here:
"I just wanted to be one of The Strokes / Now look at the mess you made me make."
The song that leads off the latest Arctic Monkeys album, Tranquility Base Hotel + Casino, is quite a statement.
Star Treatment sees frontman and songwriter Alex Turner looking back at his teenage aspirations in the early 2000s, as he looks back at the long, wild ride that's been his career.
The band gave the song its live debut at a special show at London's Royal Albert Hall earlier this week, in aid of the charity War Child.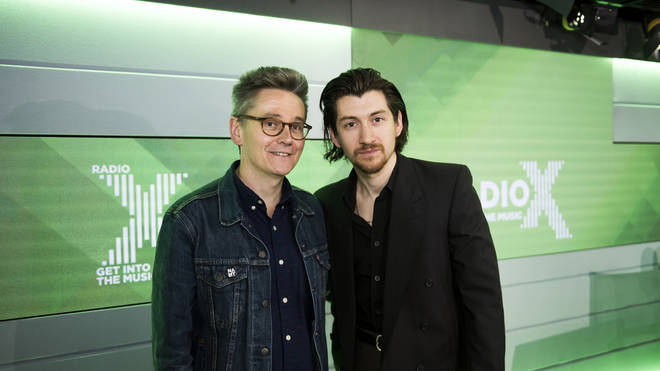 But what was he trying to say? Speaking to Radio X's John Kennedy at the time of the release of Arctic Monkeys' sixth album, Turner explained what the memories meant to him.
He said: "The arrival of The Strokes changed what music I was listening to, what shoes I was wearing. I grew my hair out and borrowed my mum's blazer. I was a huge fan. That line seemed to encapsulate this idea that a period of time went by in a flash."
However, Turner initially thought that the line was great for a quick, off the cuff comment, but he'd go back to it later on in the songwriting process when he'd thought about it a bit more. But he ended up not having any second thoughts.
"Love came in a bottle with a twist off cap / Let's all have a swig and do a hot lap…"
He went on: "It was something to hold a place, which I'd return to once I knew what this album was going to be about. By the time I came back to change it, it seemed to be exactly where it ought to be.
"There's something about how blunt it is, that almost caused me to dare myself to leave it in."
And leave it in he did - unconsciously making a connection to the arrogant, confident, swaggering words of the very first Arctic Monkeys album, Whatever People Say I Am That's What I'm Not.
"It reminds me of the way I would have written the lyrics on that first record of ours as well," he admitted.
"There's something about this record and that first one… There's a similarity to them and I couldn't draw as strong a similarity to any [album] in between. I can't quite put me finger on what it is. Maybe it's in that line and how direct it is."
"So who you gonna call? The martini police…"