Fans react to return of Steve Coogan as Alan Partridge in This Time
26 February 2019, 10:05 | Updated: 26 February 2019, 13:25
The BBC show, featuring Steve Coogan as the hilarious British broadcaster, came to our screens this week, and fans couldn't get enough of it.
Steve Coogan returned to our television screens in the guise of Alan Partridge this Monday (25 February).
This Time with Alan Partridge saw British favourite fictional broadcaster return to the BBC, this time taking on a family-friendly magazine show which looked and sounded very similar to The One Show.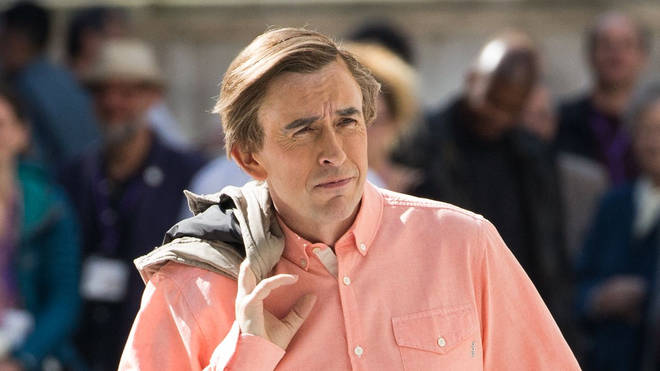 Celebrities and civilians alike were excited for last night's TX, with journalist and author Katy Brand declaring it "Alan Partridge Day" at her house.
Meanwhile, comedian Katy Brand gushed: "Olivia Colman has won an Oscar, and new Alan Partridge starts tonight. It's a good day already".
Olivia Colman has won an Oscar, and new Alan Partridge starts tonight. It's a good day already 💫

— Katy Brand (@KatyFBrand) February 25, 2019
See some of the best reactions to the show here:
Some fans thought the show had an "uncanny" resemblance to Piers Morgan and Susanna Reid in Good Morning Britain.
And many fans picked out the same moment as the funniest part of the show...
And this lot tended to agree...
Other viewers couldn't get enough of his hands-free toilet tekkers:
Hands free toilet scene was classic AP. Utter genius.

— Andrew Hawley (@andrewjohhawley) February 25, 2019
Classic Partridge!
It wasn't all rosy though. Some people thought the new show had nothing on Partridge's previous incarnations.
In the years since he started with Alan, people like Piers Morgan and Trump have perfected normalising the awkward and cringeworthy.

Still quite funny in parts but old Partridge can't be beaten as it was so far ahead of its time !

— Johnny Castle (@realjohnnycas) February 25, 2019
Not working for me. Bit disappointed tbh

— Glen Hattersley (@rocknroll66) February 25, 2019
Very good- I was hoping for more. I'm giving it 8/10.

Mid morning matters is still the best stuff... two brilliant seasons

— Bill (@skinnerreborn) February 25, 2019
However, another defended the satirical comedy, writing: "People that don't find #AlanPartridge funny are the ones that enjoy Mrs Browns Boys and Miranda."
One thing everyone can agree on, his the banter-filled decision to have Alan Partridge email everyone at the BBC.
Everyone at the BBC just got this email from Alan Partridge.

"I ask every one of this email's 20,000+ recipients to tune in tonight at 9.30pm on BBC One. Even if nobody else in the country does, we're already hitting the kind of numbers my shows were getting on Sky Atlantic." pic.twitter.com/bDMdbujBzA

— Scott Bryan (@scottygb) February 25, 2019
If that wasn't hilarious enough, they even had Partridge leave an out of office.
Watch Steve Coogan reveal his favourite Manchester track: