How much is a Glastonbury ticket?
24 June 2022, 17:10 | Updated: 24 June 2022, 19:03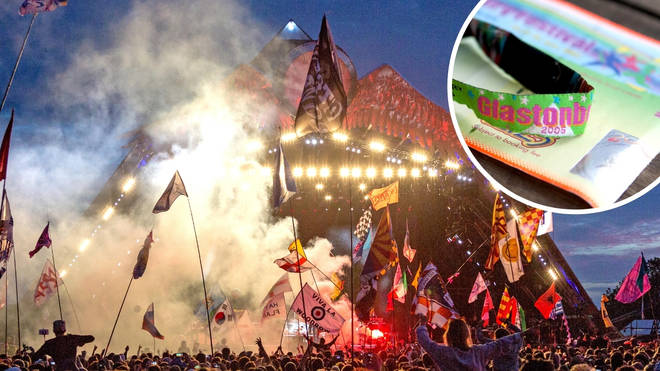 This his how much a ticket to Glastonbury Festival has cost over the years... and how much you can expect to pay for one these days.
Does Glastonbury Festival give you value for money? With the cost of living rising and inflation getting bigger and bigger, how far do your hard earned pounds go?
It's difficult to argue that Glastonbury doesn't give you bang for your buck - the sheer scare of the event, plus the number of different stages and variety of artists and performers is hard to beat.
So how much is a Glastonbury ticket these days? And how much has the price risen over the decades? Let's take a look back...
How much is a Glastonbury ticket?

The cost of a full weekend ticket for Glastonbury in 2022 was £280 plus a £5 booking fee. When the tickets originally went on sale in 2020, they were priced at £265, but the cancellation of that year's event, plus the following year's festival and the increase in inflation across the intervening period meant an increase.

How has the ticket price increased since the very first Glastonbury festival in 1970?

Glastonbury ticket price 1970: £1

The original Glastonbury Fair in September 1970 featured a bill that included Tyrannosaurus rex, Stackridge, The Amazing Blondel, plus "lightshow, lightship, diorama and films, freaks and funny things" would have set you back a full quid - plus you got free milk from Worthy Farm

Glastonbury 1970 poster. Picture: Glastonbury Festivals

Glastonbury ticket price 1979: £5

After 1978's impromptu free festival, the final year of the 70s saw Michael Eavis back with a proper, fee-paying event that featured Peter Gabriel, Steve Hillage, John Cooper-Clarke and many more. It was all in aid of the UN Year Of The Child.

Glastonbury Festival poster 1979. Picture: Glastonbury Festivals

Glastonbury ticket price 1981: £8

The year that Glastonbury invested in its own laser for the Pyramid Stage, so the tech was reflected in the ticket price. You could also see New Order, Aswar, Hawkwind, Gong and more.

Glastonbury poster 1981. Picture: Glastonbury Festivals

Glastonbury ticket price 1984: £13

As the festival got bigger, so did the ticket price. For £13, you could have enjoyed The Smiths, Ian Dury & The Blockheads, Dr John, Billy Bragg and The Band at Worthy Farm. Plus, in those days, you could send a cheque by post to bag your tickets, or even just turn up at a selected record shop and buy your passes over the counter. Imagine that.

Glastonbury Festival poster 1984. Picture: Glastonbury Festivals

Glastonbury ticket price 1992: £49

Quite a leap in ticket price for the weekend, but the number of stages had expanded and the festival was now one of the best in the world. 30 years ago, you could have seen Carter USM, Shakespear's Sister, Youssou N'Dour, Blur, Lou Reed, Primal Scream, PJ Harvey, plus enjoyed nice hot weather the entire weekend!

1992 saw an expanded Glastonbury festival.

Picture: Trinity Mirror / Mirrorpix / Alamy Stock Photo

Glastonbury ticket price 1995: £65

The 25th anniversary of the festival featured Oasis headlining for the first time, The Cure headlining for the third time and Pulp standing in for The Stone Roses after they bailed out. It was also your chance to see Jeff Buckley play The Other Stage, which is worth £65 all by itself.

1995's Glastonbury was the second year the festival was televised - on Channel 4! Picture: Mick Hutson/Redferns/Getty

Glastonbury ticket price 1999: £83

The final Glastonbury of the 20th Century saw R.E.M., Manic Street Preachers and Skunk Anansie all headline for the price of £83. Also on the bill were The Beautiful South, a young Muse, Coldplay, Underworld and Queens Of The Stone Age.

The Other Stage at the final Glastonbury of the 20th century.

Picture: Edd Westmacott / Alamy Stock Photo

Glastonbury ticket price 2003: £105

This year was the first time that the ticket price topped a full £100 for the entire weekend. The addition of a new security fence the previous year meant that the event was now better organised and much safer. In return for that, you got decent weather, R.E.M., Radiohead, Moby, The Flaming Lips, The Darkness and a whole lot more.

A sunny Pyramid Stage at Glastonbury 2003.

Picture: REUTERS / Alamy Stock Photo

Glastonbury ticket price 2010: £185

For the festival's 40th anniversary, you could expect to pay £185 for a weekend ticket and enjoy the music of Muse, Stevie Wonder and Gorillaz (who stood in for an absent U2). And Thom Yorke did a secret show! A new photo registration system had been introduced in 2007, meaning forgeries and touting became increasingly difficult.

The sun sets on Glastonbury's 40th anniversary event in 2010. Picture: In Pictures Ltd./Corbis via Getty Images