Songs with (brackets) in the title
17 February 2020, 20:07 | Updated: 17 February 2020, 20:11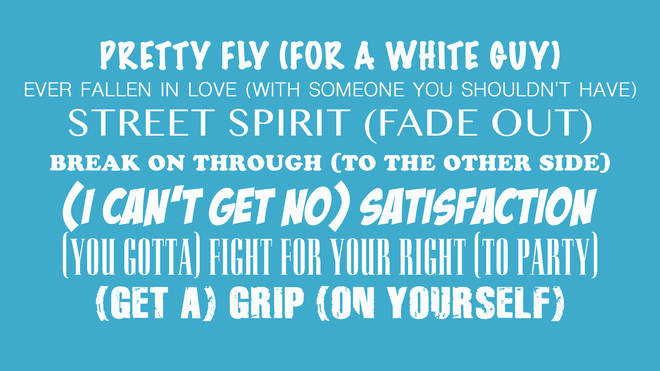 A lot of songwriters have pressed the little blighters into service at one time or another. Here are just a handful… but can YOU think of any more?
Parentheses are described by one online dictionary as "a remark that is added to a sentence, often to provide an explanation or extra information, that is separated from the main part of the sentence".
Radiohead - Street Spirit (Fade Out)

Cinematic parentheses for this classic from The Bends.

The Rolling Stones - (I Can't Get No) Satisfaction

Unfulfilled desires parentheses from Mick.

Beastie Boys - (You Gotta) Fight For Your Right (To Party)

Hedonistic parentheses from the hip hop trio.

R.E.M. - It's The End Of The World As We Know It (And I Feel Fine)

Apocalyptic parentheses from the REMs. See also: (Don't Go Back To) Rockville.

The Doors - Break On Through (To The Other Side)

Perception-busting parentheses from Jim Morrison and his bunch of absolute lads.

Buzzcocks - Ever Fallen In Love (With Someone You Shouldn't Have)

Punk rock parentheses from the Manchester heroes.

The Offspring - Pretty Fly (For A White Guy)

Punk pop parentheses from Dexter Holland.

The Stranglers - (Get A) Grip (On Yourself)

Punk parentheses courtesy of the Guildford lads.