Rap meets Rock: the greatest collabs & crossovers
20 June 2020, 16:00 | Updated: 20 June 2020, 16:01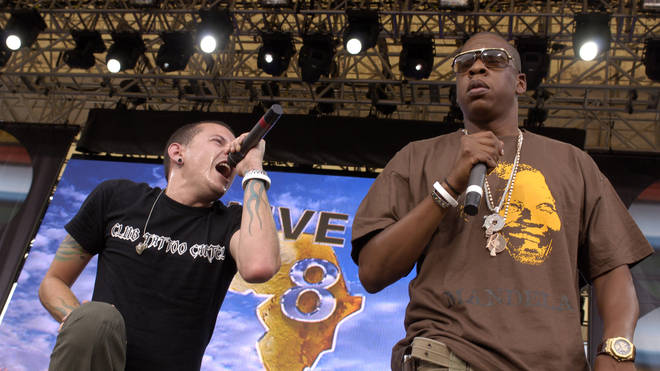 Radio X celebrates those amazing moments when genres start to get mixed up and magic happens.
Linkin Park and Jay-Z - Numb/Encore

This collaboration between Jay Z and Linkin Park turned a lot of heads in 2004. Whether you loved it or hated it, no one could deny the impact it made. It wasn't the first time these artists had played with rock rap fusions, however. Mike Shinoda used to mash up Jay-Z songs with those of Smashing Pumpkins in his pre-fame days, and Jay-Z lent his music to Danger Mouse, who created the legendary Grey Album, a mash up of the rapper's Black Album and The Beatles' classic White Album.

Run DMC and Aerosmith - Walk This Way

This classic 1986 collaboration exposed both Aerosmith and Run DMC to new audiences. The original 'Smith track appeared on their 1975 album Toys In The Attic, but the hip hop outfit from Hollis, New York gave the rock standard a considerable kick up the arse.

Beastie Boys - Sabotage

Beastie Boys started life as a hardcore punk outfit, but soon ditched the guitars and picked up mics. Their rock sensibility meant that they were sampling classic rock riffs instead of drum tracks from old soul records. Sabotage features a huge guitar break and the trio's trademark lyrical dexterity. Plus, it has one of the most famous videos of all time.

Gorillaz - Clint Eastwood

Damon Albarn took a risk with Gorillaz. Not only was it a vast departure from his work with Blur (deeply electronic, extremely cynical, and…er…completely animated) but it also included a lot of rapping. Gone was Albarn's Britpop, cheeky-chappy persona, and born was a humble, integral artist who took his music seriously. The verses are rapped by Californian MC (and Ice Cube's cousin) Del The Funky Homosapien.

The Maccabees and Roots Manuva - Empty Vessels

Empty Vessels was already a firm favourite with Maccabees fans - it was, of course, originally called No Kind Words. After their second album had seen the band rise to becoming one of Britain's most exciting acts, rapper Roots Manuva gave the track a gritty reworking. Stripping the melody back to its dark, moody basics, Manuva displayed perfectly how guitar music and rap can fuse together perfectly.

R.E.M. - Radio Song

Kicking off the multi-million selling 1991 album Out Of Time, Radio Song is a rant against the superficial nonsense of commercial radio (what COULD they mean?) and features KRS-ONE of the legendary hip hop collective Boogie Down Productions. The rapper went solo shortly after this track gave him his biggest audience yet.

Coldplay featuring Jay Z - Lost

Jay Z's second appearance of this list is quite a departure from his first. When Coldplay became a stadium band off the back of X & Y, Chris Martin became one of the most in-demand rockstars in the world. And what comes with global success? A whole host of superstar friends, of course. Jay Z and Martin struck up quite the bromance (you can actually spot the aforementioned watching Coldplay's headline slot at Glastonbury 2011 with wife Beyonce) and the Lost collaboration was the musical result.

Arctic Monkeys and Dizzee Rascal - Temptation Greets You Like Your Naughty Friend

n 2007 Arctic Monkeys were well on their way to becoming superstars. Their second album Favourite Worst Nightmare had gone to Number 1 and a Glastonbury headline slot was just over the horizon. Comeback single Brianstorm featured Temptation… as its B-side, with Dizzee Rascal lending his gruff London tones to a verse. The two paired up during said Glastonbury performance to play the track live.

Blondie - Rapture

Debbie Harry brought rap to its biggest  audience  yet in 1980, with this pioneering track. New York clubs like The Roxy were bringing punks together with DJs, breakdancing crews and graffiti artists, and the results of this cross-pollination were spilling out into the mainstream via tracks like Rapture. The rapping may not be the best (in fact she's largely banging on about "the man from Mars" eating "cars and bars") but what it meant to the genre is unquestionable. It also references man about town and graffiti artist Fab Five Freddy in one of the best namedrops in rock.