These Are The 10 Most Influential Women In Rock
8 March 2018, 09:53 | Updated: 30 April 2018, 14:54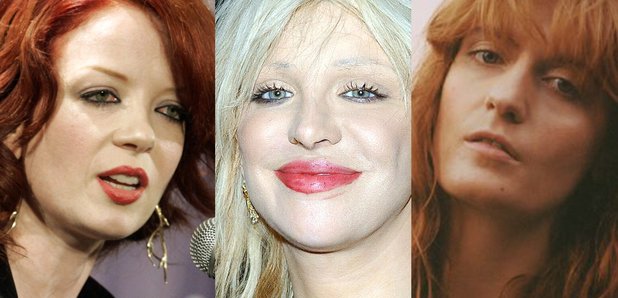 Celebrate International Women's Day with Radio X's Top 10 most influential female rockers.
To celebrate International Women's Day, we're taking a look at some of the biggest and most influential women in rock history.
Whether you're into punk, Britpop or grunge, Radio X presents the most crucial women in alternative music. Find out who's made our Top 10 and let us know if you agree with the results in our poll.
10. Ellie Rowsell
She may only be 24, but the Wolf Alice's frontwoman has proved herself to be a force to be reckoned with. She has been nominated with her bandmates for an Ivor Novello for her track Bros, while in 2016 they took home an NME Award for Best Live Band and featured in the highly anticipated Trainspotting sequel. And all before releasing their second album.
9. Shirley Manson
The iconic Scottish singer - known for her flame red hair, outspoken attitude and distinct vocals - has sold millions of records as the singer of Garbage. Most known for singles Only Happy When It Rains and Stupid Girl, Manson acted as the perfect foil to the 90s male frontman, delivering the perfect blend of feminist angst and vulnerability. The formidable Edinburgh rocker also boasts a solo career and acting credits in the likes of Terminatior: The Sarah Connor Chronicles. And her influence is still spreading: Manson and the band also released their sixth album Strange Little Birds in 2016 and have announced a joint tour with Blondie.
8. Florence + The Machine's Florence Welch
The BRIT-Award winning artist and lead singer of Florence + The Machine has been mesmerising fans with her voice for almost a decade. Since releasing her debut album Lungs in 2008, Florence has gone on achieve a grander sound in her Ceremonials (2013) and How Big, How Blue, How Beautiful (2015) albums and has become synonymous with rich, arty visuals, big award ceremony duets and huge festival slots like her headline slot at Glastonbury Festival 2015. In short, In 8 short years she has become a total powerhouse.
7. Siouxsie Sioux
Born Susan Janet Ballion, Siouxsie Sioux is best known as the lead singer of Siouxsie And The Banshees. Most known for their singles Hong Kong Garden and Happy House, the band was initially borne from the British punk scene, but went on to become icons of the post-punk era. Siouxsie - known for her striking black hair and dramatic make-up - also made up one half of drum-and-voice duo The Creatures and went on to have a solo career and become the recipient of the Ivor Novello inspiration award in 2012.
6. Justine Frischmann
If you're looking for a subversive Britpop icon, you need look no further than Elastica singer Justine Frischmann. Not content to be responsible for just one huge band from the era, Frischmann helped form Suede when she met Brett Anderson at UCL. Leaving the band in 1991 and going on to form and front Elastica the next year, Frischmann is best known for Line-Up and Connection singles, as well as her public relationship with Blur's Damon Albarn. Despite leaving the limelight to become an artist in the US, Frischmann still remains one of the blueprints for rock 'n' roll frontwomen.
5. PJ Harvey
Often referred to as the high priestess of dark rock, Polly Jean Harvey is a poet, singer-songwriter, composer and performer. Making music since the late 80s, Harvey's artistry and constant reinvention has earned her an MBE for services to music, as well as a string of GRAMMY and BRIT Awards nods. PJ Harvey is also the only artist in history to have won the Mercury Prize twice (in 2001 and 2011), for her Stories From The City, Stories From The Sea (2000), and Let England Shake (2011) albums.
4. Courtney Love
Despite being one of the most devisive characters in rock, Courtney Love's influence is undeniable. Rising to prominence as the frontwoman of Hole, Love is known for being the outspoken, controversial rocker who brought us tracks such as Celebrity Skin, Violet and Miss World. Known for her highly publicised marriage to Nirvana frontman Kurt Cobain, which gave them daughter Frances Bean, Love was often criticised for her behaviour following Cobain's death - which included reading par of his suicide note at his public memorial service. Love also credits herself as the subject matter of various songs of the grunge era- having also dated Smashing Pumpkins' Billy Corgan.
3. Björk
Icelandic musical genius Björk Guðmundsdóttir started her musical career as a child star, before becoming the wild-voiced singer of the quirky indie band The Sugarcubes when she was 21. Her solo career began in 1993 and saw her experiment with music, composition, film-making and art across a series of conceptually extravagant albums. She's even starred in a dramatic film, Dancer In The Dark, and has been nominated for 14 Grammys, on Academy Award and two Golden Globes. Her blend of childlike innocence and fire and vigour makes her one of the most vital performers around.
2. Kate Bush
Born into a musical family, Catherine Bush was a child prodigy in the mid 1970s and came to the attention of Pink Floyd's David Gilmour. Her debut single, based on the novel Wuthering Heights went to Number 1 and her approach to music, art, dance and performance has bewitched audiences for years.She is the first British solo female artist to top the UK album charts and the first female artist ever to enter the album chart at Number 1. Such is her iconic status, when she announced her first live shows in over 30 years, tickets for her 22-night London residency sold out within 15 minutes.
1. Debbie Harry
Deborah Harry began her musical career as a singer in the folk rock act The Wind In The Willows in the 60s, but it was her iconic status fronting New York new wavers Blondie that has made her legendary. Bursting out of America's nascent punk scene, Blondie were a phenomenon around the world, selling over 40 million albums - and they're still operating in 2017, with a new LP Pollinator. Harry's glamorous looks often distracted critics from her songwriting and performing skills - some say she is technically the first rapper to reach Number 1 in the US, thanks to her vocal on the hit Rapture. She also branched out into acting with roles in Videodrome and Hairspray.