Track By Track: The Wombats on Fix Yourself, Not The World
17 January 2022, 11:13 | Updated: 16 June 2022, 11:29
Matthew "Murph" Murphy and Dan Haggis take Radio X's John Kennedy through their fifth album.
The Wombats have returned with their fifth album, Fix Yourself, Not The World. The follow-up to 2018's Beautiful People Will Ruin Your Life, the record began its life three years ago, before COVID came along and changed the world.
With frontman Matthew "Murph" Murphy now based in Los Angeles, the trio began work on demos in 2019, but had to record the album proper while in lockdown: Murph remained in California, drummer Dan Haggis was in London and Tord Øverland Knudsen had returned to his native Norway.
A string of singles with titles such as If You Ever Leave I'm Coming With You and Everything I Love Is Going To Die, have continued Murph's honest but humorous portfolio of lyrics.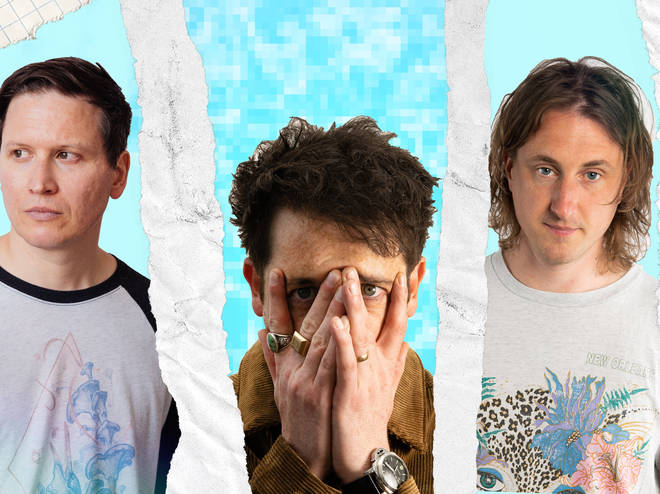 The title of the album - Fix Yourself, Not The World - has also attracted some comment in these turbulent times. "It can open up doors to conversations that you wouldn't generally have," says Murph of the name of their latest record.
Dan adds: "Personally, I remember telling my mum's partner about the title and a few days afterwards, he was like, I've been thinking more about that sort of idea... Everyone goes down their own little rabbit hole around that kind of thought."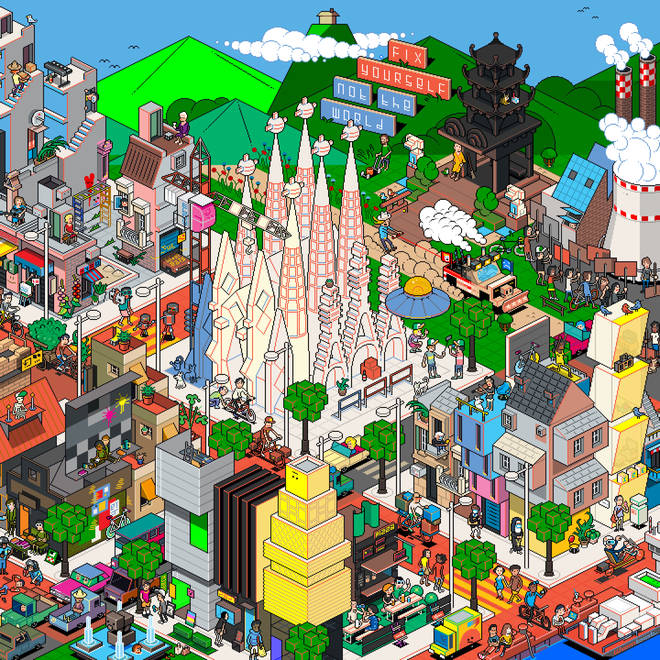 "You're accepting that actually a lot of the time you do need to get to grips with who you are, what you want to be, how you want to act and all the rest of it... To be able to then help your partner or your neighbours to be the best they can be... to be able to actually function properly."
Murph and Dan sat down with Radio X's John Kennedy to talk through the songs on Fix Yourself, Not The World, track by track.
Flip Me Upside Down

Murph: "I had this vision of someone kind of being trapped in a Brooklyn apartment trying to figure out their life and failing dramatically. It's a very off the wall song for us, extremely frenetic. We felt like it was a really cool way to start off the album."

This Car Drives All By Itself

Murph: "Someone said to me: We row, but the universe steers. And I became obsessed with that idea and was trying to find a new way to phrase it. I was out walking the dogs once and a Prius went past, but I couldn't see anyone in the driver's seat. That's where the title for the song came from. I was just a passenger as it was happening - it just kind of fell out."

If You Ever Leave I'm Coming With You

Murph: "That's something that my wife said to me a long time ago and was living in my notes. I'm sure I tried to crank it in somewhere on the fourth album, but didn't manage to - so I'm very happy that it finally found a home. I've tried to explain it a million ways, but really it's just about not wanting something very special to break and fail. What can I do to make sure that that doesn't happen? And the answer is I'm so desperate for it and not happen. I'll do anything."

Ready For The High

Murph: "This was the first song that we did for the album and it heavily influenced what was to follow. We were loosely talking about going from alternative nineties grunge into something like Blur's The Universal or Flaming Lips or something. I'm not sure if it fell in either of those places."

Method To The Madness

Murph: "We have this food delivery thing in in L.A. called Methodology, so I had this pot that said 'Methodology' on it. I thought, there's something about that. The song is kind of loosely about my honeymoon and the feelings I was having after I got married. I felt like everything had changed, but also everything was still the same. The ending is about letting go of all of that and just saying kind of f**k it, you aren't going to figure this out. It's very complicated and you don't stand a chance."

People Don't Change People, Time Does

Murph: "It's about an actor or actress arriving in Los Angeles for the first time, with all these big hopes, dreams, aspirations. L.A. is one of those brutal cities like London that can slowly chip away at them."

Everything I Love Is Going To Die

Murph: "It's not as grim as the title suggests. It should be liberating, I think. It's about living in the present and maybe being a bit more grateful than you usually are. It also plays with the idea of you've got to be present, but you don't want to live for the moment too much, because that's going to have some pretty grim consequences for your future self sometimes. That's where the line about Icarus comes into it, but mainly it's just about cherishing what you have and living in the moment."

Work Is Easy, Life Is Hard

Murph: "Is it about cancel culture? People keep saying that. I think there are elements of it. I don't really try to do political songs because they're hard to pull off. This is mildly political. I was in a bit of a strange place at some point in 2020, and I felt like there were very simple solutions being bandied around to help fix very, very complicated issues. I kind of got a little bit tired of it."

Wildfire

Murph: "It's not to do with the California wildfires. But I think they were raging at the time."

Dan: "Describing someone as wildfire is great imagery and has a lot of connotations as well that you can't control the uncontrollable."

Don't Poke The Bear

Murph: "I had a raging cold that Tord that given me, and I was walking around my neighbourhood sneezing everywhere and trying to get to get some lyrics out. I'd say the meaning is fairly ambiguous, to say the least. But I don't know. I guess it's probably about knowing when to back off."

Worry

Murph: "It's kind of about worry and OCD as well. I can feel myself sometimes getting into this habit of like, Oh the the volume on the TV has to be at a multiple of three or something like that, or I'm moving things off cracks in the road. It's about noticing it, trying your best to dodge it if you can and if you can't, to just really accept it."

Fix Yourself, Then The World (Reach Beyond Your Fingers)

Dan: "I think it was important to end on a positive note and to play with the actual album title a little bit as well. There are tons of conversations we can have about the album title, but there are also multiple ways it can be misconstrued."