Watch The Smiths' bizarre appearance on kids' TV in the 80s
21 May 2023, 14:00
Kids Interviewing Morrissey & Marr (Datarun) (1984)
Great Moments In Rock 'N' Roll: Morrissey and Marr get grilled by THE KIDS. Much is revealed and there's the greatest mis-spelling of all time.
This is a perfect example of some of the ludicrous promotion The Smiths used to do as they tried to make a name for themselves.
Morrissey and Marr would occasionally crop up in the strangest of places in a bid to bring the revolutionary music of The 'Miffs to a wider audience.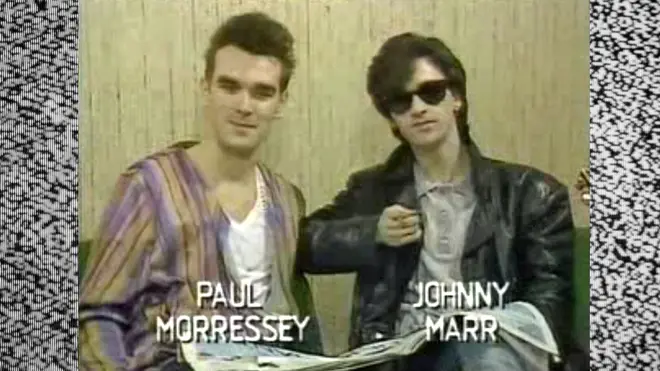 Despite bizarrely being tagged as "Paul Morressey" Moz is unusually chirpy in the clip, taken from the Saturday morning show Datarun, which ran after Good Morning Britain between 1983 and 1984.
Surprisingly, the frontman also answers a heap of probing questions from schoolkids pretty seriously.
This is journalism at its finest, with questions like "Why do you wave flowers around?"
We also get to the bottom of why The Smiths are called The Smiths.
Bonus cringe: The Smiths take a ride on Charlie's Bus and meet Sandie Shaw at Kew Gardens.
The Smiths - S.P.L.A.T.: Charlie's Bus (with Sandie Shaw), TV-am, UK - April 1984 • 4K