Billy Corgan Denies Playing Twister With Nirvana... Even Though There's Video Footage
27 September 2018, 12:10 | Updated: 27 September 2018, 12:21
The Smashing Pumpkins frontman was asked about the bizarre event, which saw a half naked Krist Novoselic covered in Crisco.
Billy Corgan has said he never played Twister with Nirvana.
As NME reports, the Smashing Pumpkins frontman was taking part in an Instagram Q&A when a fan asked him about the event, which was filmed for MTV in 1991.
Watch a video of a half-naked Krist Novoselic covered in lard-substitute Crisco above.
Asked about the evening, the Today singer responded: "No, that wasn't us, TBH."
But when reminded by a fan that footage existed of said evening, which took place at Bill's Bar in Boston, the grunge icon simply maintained: "Again, that's not us".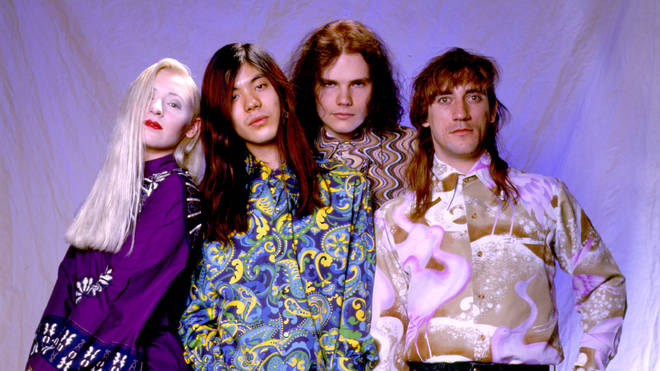 It's hard to tell if the 1979 rocker is being tongue-in-cheek, but it's probably safe to assume it's something he'd rather forget.
Unfortunately, it's not just video evidence that's out there, but the account of a local musician who was there too and played with both bands just before the shoot.
According to Vanyaland, Todd A. Phillips from local band Bullet Lavolta told the Boston Phoenix Post in 2011: "MTV approached all three bands about doing some kind of impromptu video interview at Bill's Bar."
He added: "We walked over and were met by an MTV producer, armed with a bucket of Crisco and the game Twister. Her vision, 'Naked greasy Twister with interview' seemed funny at the time, but the taping ended up being a bust. I sat out and tried to hit on [original Smashing Pumpkins bassist] D'arcy [Wretzky] ."
Meanwhile, die-hard Smashing Pumpkins fans are in for a treat as the grunge band announced a reunion and new album this year.
Shiny And Oh So Bright, Vol. 1 / LP: No Past. No Future. No Sun. is to be released on 16 November and is the first record in 18 years to feature founding members Billy Corgan, Jams Iha and Jimmy Chamberlin.
Get a look at Smashing Pumpkins first-look reunion line-up on Jimmy Fallon:
The album has been produced by Rick Rubin at Shangri La studios and features guitarist Jeff Schroeder in place of former bassist D'Arcy Wretzky.
The touring band features Jack Bates (son of Joy Division legend Peter Hook) on bass and Katie Cole on keyboards.Smashing Pumpkins play London's Wembley Arena on Tuesday 16 October.