14 things you need to know about Thom Yorke of Radiohead
7 October 2021, 20:00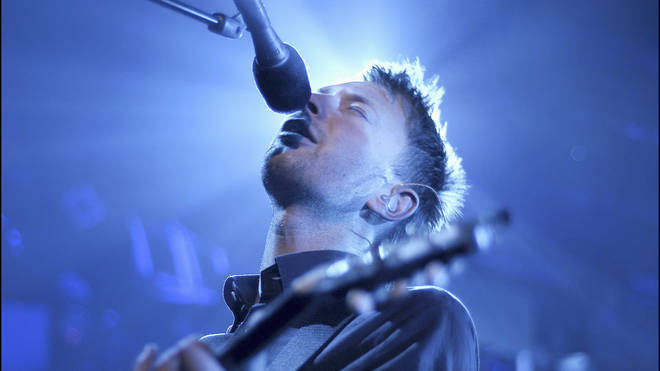 What happened to Thom Yorke's eye? Who was Thom Yorke's partner? What's the name of that soundtrack he did? All of this and more will be revealed…
What happened to Thom Yorke's eye?

When he was born, Thom's left eye was discovered to be paralysed. He had five operations on it before he was six years old and the last one left him with a drooping eyelid.

Thom Yorke performs at the MTV2 2$BILL Concert Series at the Beacon Theater June 5, 2003 in New York City. Picture: Mark Mainz/Getty Images

Where was Thom Yorke born?

Thom Yorke was born on 7 October 1968 in Wellingborough, Northamptonshire.

Thom Yorke performing with Radiohead in August 1993. Picture: Michel Linssen/Redferns/Getty Images

Is Thom Yorke married?

Thom was with his partner Dr. Rachel Owen for 23 years. They had two children: Noah, born in 2001 and Agnes, born in 2004. The pair separated amicably, with Yorke saying: "It's perfectly amicable and has been common knowledge for some time." Sadly, Owen passed away on 18 December 2016, after losing her battle with cancer. Since 2017, Yorke dated Italian actress Dajana Roncione and the pair married in September 2020.

Thom Yorke and Dajana Roncione attend the Undercover Menswear Fall/Winter 2019-2020 show as part of Paris Fashion Week on January 16, 2019 in Paris, France. Picture: Victor Boyko/WireImage/Getty Images

What was Radiohead's original name?

Radiohead were originally called On A Friday. When they signed to the Parlophone label in 1991, they were persuaded to change their name.

Radiohead in October 1993. Picture: Bob Berg/Getty Images

Where did Radiohead get their name from?

The name Radiohead is taken from a Talking Heads song, included on their 1986 album True Stories: "Transmitter! Oh! / Picking up something good / Hey, radio head! / The sound...Of a brand-new world."

Radiohead: Phil Selway, Jonny Greenwood, Thom Yorke, Colin Greenwood, Ed O'Brien in Belgium, 1995. Picture: Gie Knaeps/Getty Images

When did Thom Yorke move to Oxford?

Thom didn't move to Oxford until he was ten years old.

Thom Yorke pictured in 1994. Picture: Andy Willsher/Redferns/Getty Images

What did Thom Yorke's father do?

Thom's father was a nuclear physicist and moved around the country depending on his work.

Thom Yorke of Radiohead poses for a photoshoot backstage at Boiler room #69 on October 11, 2011 in London,. Picture: Caitlin Mogridge/Redferns/Getty Images

What was Thom Yorke's first recording?

Between the end of school and the start of Radiohead, Thom occasionally DJed and was a member of the band Headless Chickens. They released a track called I Don't Want To Go To Woodstock on an EP released by Exeter label Hometown Atrocities in the summer of 1989.

Thom Yorke of Radiohead performs at Reading Festival in England on 27 August 1994. Picture: Brian Rasic/Getty Images

Where did Radiohead form?

He met the future members of Radiohead - Colin and Jonny Greenwood, Ed O'Brien and Phil Selway - at the Abingdon public school in Oxford.

Radiohead in New York, 1993.

Picture: Bob Berg/Getty Images

What is the name of Thom Yorke's debut solo album?

Thom's first solo album was The Eraser, released in July 2006. The second, Tomorrow's Modern Boxes, was released in September 2014.

Which song did Thom Yorke collaborate with PJ Harvey on?

Thom performed guest vocals on PJ Harvey's song This Mess We're In, which was included on the album Stories From The City Stories From The Sea in 2000.

Which song did Thom Yorke collaborate with Bjork on?

Thom also appears on Bjork's Selmasongs album, which was released in 2000. He sings on the track I've Seen It All.

Who are Atoms For Peace?

Thom's side project Atoms For Peace features Radiohead producer Nigel Godrich, Red Hot Chili Peppers bassist Flea and R.E.M. drummer Joey Waronker.

Which Film Soundtracks Has Thom Yorke Worked On?

Yorke covered Roxy Music songs for the Velvet Goldmine soundtrack back in 1998, but his latest cinematic outing is for the 2018 remake of the classic horror movie Suspiria.