Noel Gallagher's Supernova Heights Home Is Up For Sale
13 June 2018, 16:55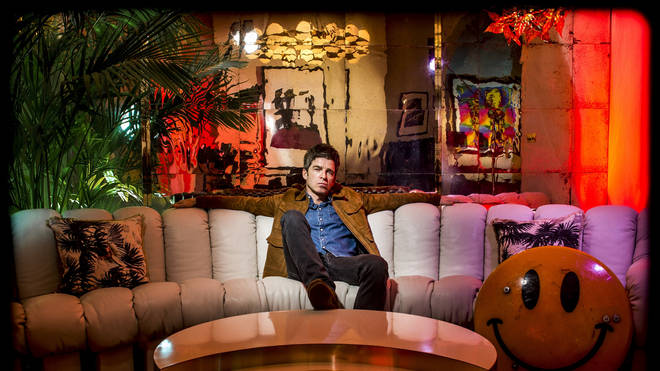 The Oasis songsmith's former home has been put on the market by its current owner David Walliams.
If you're a big Oasis fan (and have about 5.3 million quid to spare) then you're in luck because Noel Gallagher's Britpop-era home is on sale.
And if one famous name wasn't enough to tempt you into buying the gaff, then maybe the fact Simon Walliams lived there too will? OK, maybe not...
Noel Gallagher lived in the Belsize Park property in the late 90s, and named it Supernova Heights after the band's 1996 Champagne Supernova single.
See an old clip of the property below:
According to Sky News, it was then sold to David Beckham's best friend Dave Gardner in 1999, before it it came into David Walliams's possession, who bought it for around £3 million, in 2005.
As property website Marcus Parfitt states, the house - which is situated on Steeles Road in the posh neighbourhood - is now on the market following extensive renovations with a guide price of 5,350,000.
The website adds that Walliams arranged the previous 4 bedroom Victorian building nto an "opulent 3 bedroom house," by knocking out ceilings and walls to make "vaulted rooms as well as spectacular double and triple volume areas".
Additional features include two guest cloakrooms, a drawing room, a large roof terrace, a garden terrace and a south facing garden.
So what are you waiting for? Just gotta move some cash around right?
Watch Noel Gallagher reveal if he'd accept a knighthood:
Noel Gallagher's High Flying Birds shared the lyric video for his God Help us All (Demo) this week.
The track comes from the B-Side of It's A Beautiful World, which was the second single to be taken from his third solo album, Who Built The Moon?
Watch the Ste McGregor-directed video here: 
This year saw Noel Gallagher's High Flying Birds embark on their huge Stranded On The Earth World Tour (2018-2019), performing shows across North America, Europe, the UK and Ireland.
Radio X also hosted a special one-off show with Noel Gallagher and the band with an intimate gig at the Watford Colosseum.
The show, which was in-aid of Global's Make Some Noise charity, saw the Manchester legend play a career-spanning set including the rousing Who Built The Moon? opener Fort Knox and the emotional 1995 Oasis anthem, Don't Look Back In Anger.
Watch a clip of his performance at the historic venue: