How The Libertines scrapped Pete and Carl's Jamaica sessions for new album
13 October 2023, 17:27 | Updated: 13 October 2023, 18:21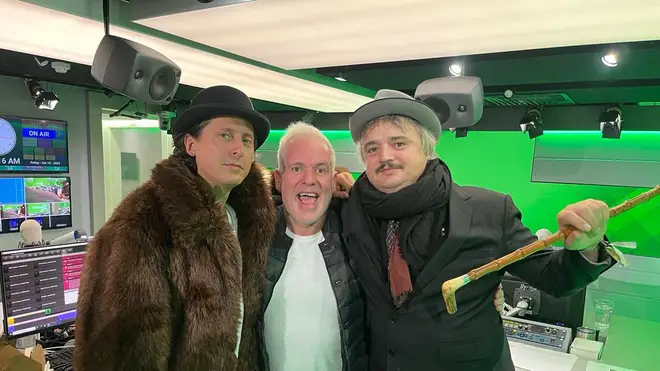 Pete Doherty and Carl Barât visited The Chris Moyles Show and discussed The Libertines' new album All Quiet On The Eastern Esplanade.
The Libertines shared the news of their fourth studio album this Friday (13th October) and Peter Doherty and Carl Barât spoke to The Chris Moyles Show about everything from their writing process its lead single.
The long-awaited album is the first slice of new material to come from the band since 2015's Anthems For Doomed Youth and asked who started the ball rolling on the record, Carl joked: "I think we've been telling the press that there's an album forthcoming for about seven years"
"But we didn't really have the songs," interjected Pete. "Or the songs that were worthy. I pumped into the other projects and I think Carl probably did the same, 'cause we weren't really seeing each other much."
Despite the fact the pair went to a secret location in Jamaica to write the record and were positive they had a decent batch of songs, they revealed how upon coming home to play them, they were rather underwhelmed by the results.
Instead the duo ended up working on the album with the rest of the band - completed by bassist John Hassall and drummer Gary Powell - and ended up working on the album in their Albion Rooms studios in Margate.
Pete explained: "We went away to a secret location in Jamaica and we wrote some new songs."
"Only two of us, which is again maybe a bone of contention..." remarked Carl.
Pete added: "We did something we'd never done in so long, which was just to sit down together with some guitars and write some songs and we'd thought we'd done an amazing job. [...] When we got back to play everyone what we did, we sort of looked to each other and thought 'eerr...'
"So we tried again in Margate, but with the four of us and we managed to get a collection of songs together and then we went over to Normandy and honed them a bit...
"So between three or four songs that we never finished and five or six brand new songs, we got an album."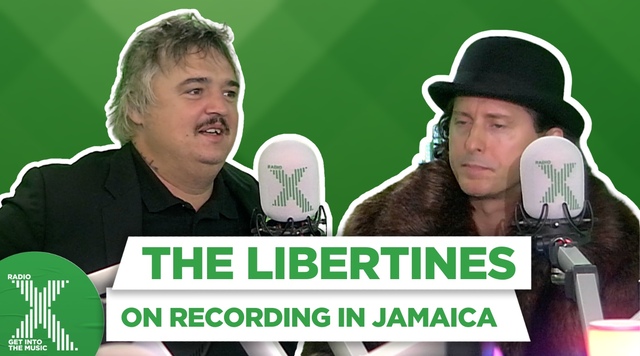 The Libertines talk scrapping Jamaica sessions
Pete and Carl may have jetted off to Jamaica, but the four-piece all headed to Normandy to record and finish off writing the album.
"It's really unusual for us to go in with unfinished songs," remarked Carl. "Normally we like to go in knowing exactly what we're going to do and just bang it out, but this was really a writing and recording session, so it was a bit hit and miss. Or we thought it could have been."
"Pete added: "It turned out alright."
The band may have moved to Normandy for more reasons than it being Pete's new home. It may have been to keep them from getting distracted.
"We've got an amazing bar underneath the studio and Carl's got the CCTV connection on his phone. And he completely misjudged my misoperation of the coffee machine as something else and he panicked and thought 'Margate's too dangerous. Let's go to Normandy.'"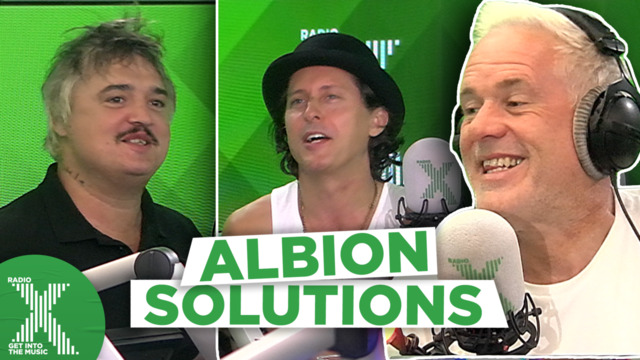 The Libertines had their own detective agency!
The interview came after the band announced the details of their fourth studio album and revealed its lead single, Run Run Run, which you can listen to below:
On the album cover, which was shot outside their famous lodgings, they explained that every person on the front represents a character conjured up from some of the songs album.
Carl revealed: "What we did for the much-debated artwork is that we got the cast members from each song on the record. We realised they look like these characters, so we got them suited and booted and got them down The Albion Rooms."
See the artwork for All Quiet on the Eastern Esplanade below, which is. available to pre-order here.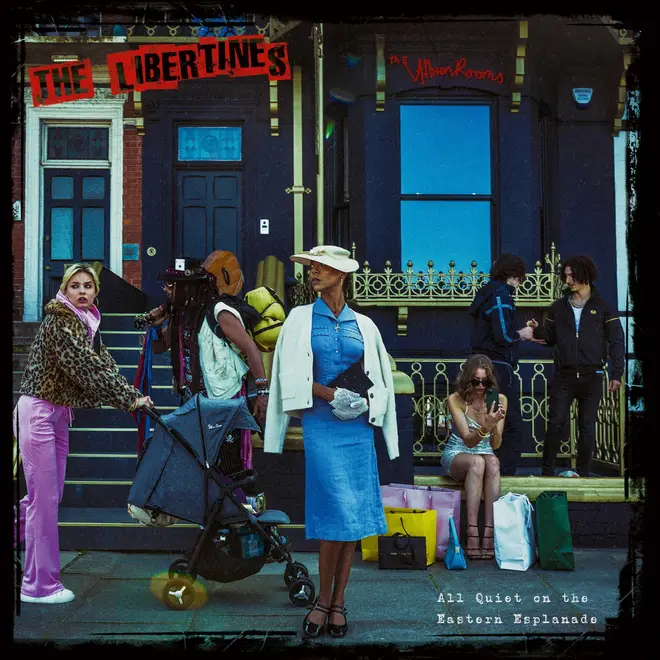 Fans who pre-order the album will be offered the chance to purchase tickets for All Quiet On The Eastern Esplanade - a live event, which is described as "two days of special acoustic and electric live shows by The Libertines" at the 500-capacity Lido in Margate on Saturday 9th and Sunday 10th December.
See the tracklisting for All Quiet On The Eastern Esplanade below:
Run, Run, Run
Mustang
Have A Friend
Merry Old England
Man With The Melody
Oh Shit
Night Of The Hunter
Baron's Claw
Shiver
Be Young
Songs They Never Play On The Radio