Liam Gallagher Wants Conor McGregor For Music Video
21 May 2018, 10:29 | Updated: 21 May 2018, 10:40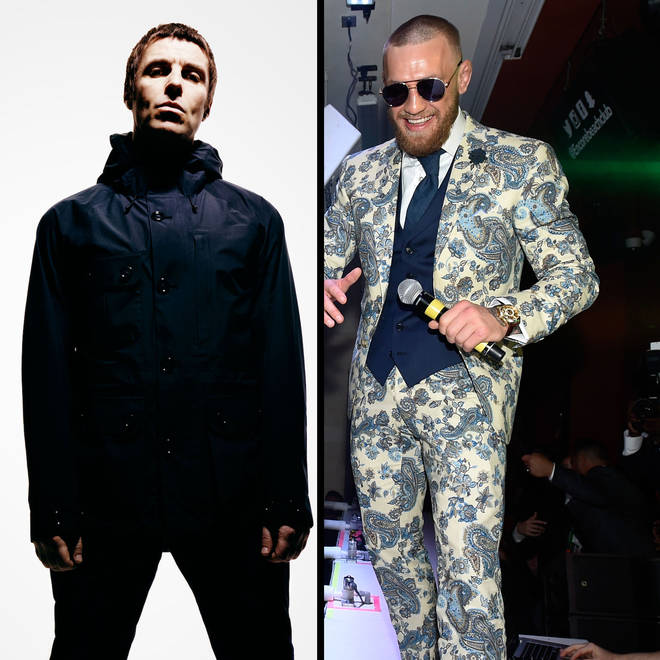 The former Oasis frontman has praised the famous UFC and MMA star on Twitter.
Liam Gallagher has praised Conor McGregor and set his sights on him for his next music video.
Taking to Twitter, the Oasis legend raved about watching the former UFC champion's film and called it "biblical".
I've just watched your film Conor McGregor biblical I want you to be in my new music video as you were LG x

— Liam Gallagher (@liamgallagher) May 19, 2018
It's likely that Gallagher is referring to the mixed martial artist's 2017 Notorious documentary, which is available on Netflix.
Watch the trailer for Notorious below:
Gallagher then took the opportunity to share the news that that he'd touched down in London with his 2.99 million-strong followers and share his excitement about his support slot for The Rolling Stones at the London Stadium this Tuesday (22 May).
It's good to be back in the uk after a month in the USA a quick shuffle of the pack and back at it again with the Rolling Stones tmorrow night it's only Rock n Roll but I like it as you were LGx

— Liam Gallagher (@liamgallagher) May 21, 2018
Meanwhile, Liam Gallagher is set to follow in Conor McGregor's footsteps with his own documentary very soon.
As Official Charts reports, As It Was will be made my documentary-maker Charlie Lightening and will chart the former Oasis star's journey from "living on the edge, ostracised lost in the musical wilderness of boredom, booze and bitter legal battles," to his solo success and the release of his debut album As You Were.
Gallagher said of the news: "As It Was is a documentary about my musical comeback. It covers the writing and recording of my first solo album, right through to playing it live for the very first time in my hometown of Manchester and around the world. I hope you enjoy the film… As You Were."
Watch Liam Gallagher play Wall Of Glass at Radio X: