How Fran Healy From Travis Made Liam Gallagher Cry
15 June 2018, 14:42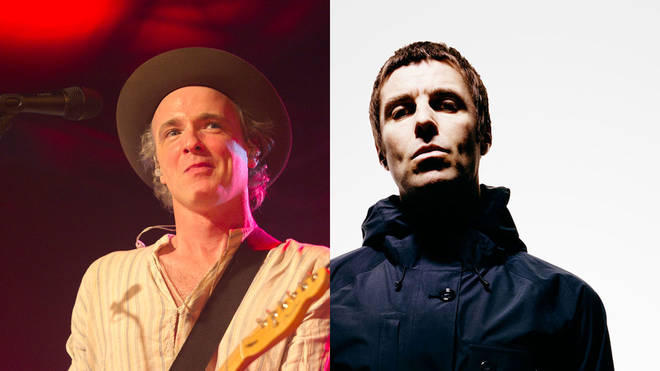 The Scottish rocker has shared a story about how he once brought the Oasis frontman to tears.
Fran Healy has revealed how he once made Liam Gallagher cry.
As the NME reports, the Travis frontman recalled a story about the former Oasis frontman during their show at London's Festival Hall on Tuesday (12 June), while introducing their song Luv.
Speaking to the crowd at the 2,500 capacity venue, he explained: "We supported Oasis on the Be Here Now Tour in 1997, and it was like supporting The Rolling Stones they were so big back then".
Healy added: "I was walking backstage and Liam Gallagher was sat there in his round shades and he goes, 'You come here'. So I went over and he goes, 'Play me a song'."
The Driftwood singer continued: "I was really nervous and I just picked up my guitar and started playing this next song. I couldn't even look at him I was so nervous.
"When I finished playing the song I looked up and there were tears streaming down his face."
Maybe Liam does have a softer side after all.
Watch Liam Gallagher perform a moving rendition of Live Forever on the Radio X rooftop:
Just this week Liam appeaered to accuse his brother Noel of suffering from a "midlife crisis" after he appeared on stage with YOTA at London's XOYO venue.
I see the midlife crisis is in full effect as you were LG x

— Liam Gallagher (@liamgallagher) June 14, 2018
While the Gallagher brothers still very much appear to be at a stalemate, it appears things have warmed between Liam and his estranged daughter Molly Moorish after he is said to have met her for the first time in 19 years.
Last month saw the Paper Crown singer share an image with himself and the 21-year-old model, who he shares with ex Lisa Moorish, alongside his two sons Lennon and Gene.
And it looks like his offspring have continued to spend time together, with Molly sharing an image with her half-brothers on Instagram, alongside the caption: "Brothers from another mother".
Meanwhile, Liam Gallagher is set to play London's Finsbury Park on Friday 29 June, with Wolf Alice, The DMA's and more announced as special guests.