Peter Hook Reflects On Death Of Ian Curtis & Changing Views On Mental Health
14 October 2018, 17:00 | Updated: 14 October 2018, 17:01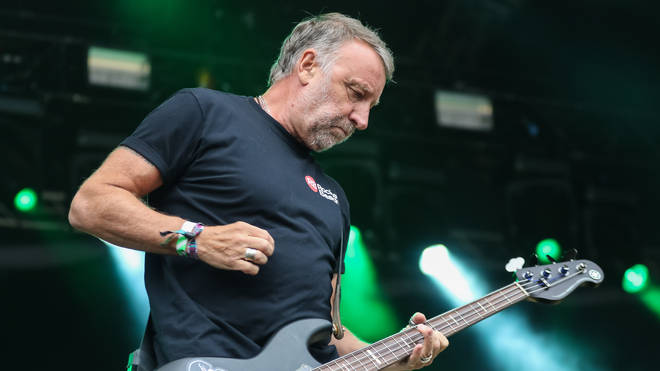 The former Joy Division and New Order bassist has talked about the death of his friend and former bandmate.
Peter Hook has reflected on the untimely passing of his friend Ian Curtis and the "burdens he was carrying".
The Joy Division frontman tragically lost his life to suicide in 1980, aged just 23, after battling with depression and epilepsy.
Now, looking back his late bandmate's struggles, Hook told NME: "Ian had a tough time. Mani [Stone Roses bassist] and I were talking recently about young Ian was to be burdened with the responsibility he was given.
"He was married at 19, he had a baby and a mortgage almost straight away. How many kids at 19 can boast that at this day and age? He was married at 19, with a baby, a mortgage and a full-time job – then he got into punk and formed a band. Then he got epilepsy."
The bassist added: "When you start looking at the burdens he was carrying back then, it's no wonder that they dragged him down. Back then the treatment for epilepsy was almost barbaric. The tablets he was taking were analysed in 2014 by modern day experts and they said that they were guaranteed to kill him."
Watch Joy Division's Love Will Tear Us Apart video:
Speaking about changing attitudes towards mental health on the whole, Hook - who has worked with CALM (Campaign Against Living Miserably) - said: "The treatment has changed and society has changed."
He added: "I do feel that people are more empathetic and open to education in those things. Myself and The Light have worked with two charities since 2010 – The Epilepsy Foundation and CALM. Suicide is the biggest killer of men under the age of 40.
"We're looking at mental health in a positive way now so that people don't have to go through what he went through. A bunch of idiots like us can even be educated. We were unaware of what Ian was going through. That, as an old bloke, is the most shocking aspect of it – how unprepared and uneducated we as his friends were. Any education and any communication about things like this towards avoiding what happened to Ian is the most important thing."
HEADS TOGETHER
Too often, people feel afraid to admit that they are struggling with their mental health.This fear of prejudice and judgement stops people from getting help and can destroy families and end lives.
Heads Together wants to help people feel much more comfortable with their everyday mental wellbeing and have the practical tools to support their friends and family.
One of their partners is the Campaign Against Living Miserably (CALM), an award-winning charity dedicated to preventing male suicide, the single biggest killer of men under the age of 45 in the UK. In 2015, 75% of all UK suicides were male.
CALM offers support to men in the UK, of any age, who are down or in crisis via our helpline, webchat and website.
NATIONWIDE: 0800 58 58 58

LONDON: 0808 802 58 58
Calls are free from landlines, payphones and all mobiles.
For more on Heads Together, see www.headstogether.org.uk
Worried about someone?
Click here: https://www.thecalmzone.net/help/worried-about-someone/