Why Rick Astley Screamed "Mother****ers" With Foo Fighters On Stage
19 July 2018, 11:37 | Updated: 19 July 2018, 11:39
The 80s star has recalled the first time he performed with the rockers and what Dave whispered to him just before they performed.
Rick Astley has recalled the first time he played on stage with the Foo Fighters and what caused him to scream "come on you motherfuckers" at the crowd.
Speaking about the epic moment, which saw him join the rockers for a performance of his Never Gonna Give You Up hit in Japan, he told NME: "I was literally at the side of the stage watching their set in Tokyo.
"And I'd just gone and had a nap – My God, that's going to make me sound ancient! But I was knackered, it was crazy-hot weather and I was jetlagged to buggery.
"I'd had a couple of beers at that point and was just trying to get hold of the time difference when Dave Grohl spotted me, came over and gave me a hug and then half an hour later, he just said: 'Right everybody, this is happening'. So I'd never met them and had no idea they'd be aware I was there. It was a bizarre, amazingly weird, fantastic thing."
Watch Rick Astley take to the stage with the Foos at The O2, London in our video above.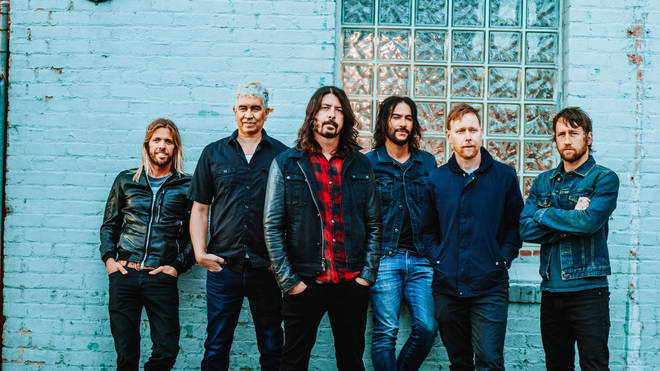 Asked about how excited he was to be on stage with the band, Astley revealed: "Well, I was a little bit pissed (laughs). I've watched it back a few times because friends keep sending me the link to it, going, 'Rick, what the fuck?'.
"I screamed at the audience 'Come on you motherfuckers!'. And I'm thinking 'Why did I do that?'. And I know exactly why I did that – 'cos Dave Grohl's just whispered in my ear 'We're going to do your tune but we're going to do it like [Smells Like] Teen Spirit' and I'm like 'okay'.
"It seemed appropriate at the time. It was a call to arms to myself to say 'Right this is happening, get involved – or else'. It was pretty special. We hung out with them afterwards."
Asked what they talked about the 52-year-old singer revealed: "Nothing too rock and roll!  It was more to do with kids, holidays, food, blah, blah blah."
When it comes to whether he has Dave Grohl's number or if he'd call him up for a collaboration, the British singer replied: "Erm….I've got his number, yeah, but I wouldn't be calling him to ask him to do that. I'm not turning it into something it's not.
"They're just a really lovely bunch of guys who are very generous with their love of what other people do."

Watch John Travolta join Foo Fighters on stage:
Dave Grohl recently revealed who's the nicest out of Obama, Rick Astley and himself.
In an interview with GQ, the Foo Fighters frontman was asked to rank himself, Rick Astley and former US President Barack Obama in terms of kindness, and he had no real problem coming up with an answer, saying: "Well, I would defnitely take last".
Gushing about the 80s crooner, he added: "Rick Astley without question is one of the nicest people I've ever met in my life."Barack Obama was also always wonderfully generous whenever we spoke with each other. He's very cool, you know."
The Lean To Fly rocker concluded: "Of those three I'd have to go with President Obama, you know considering his job was maybe a little more complicated then Rick Astley's... and he managed to keep his cool".
So Obama, followed by Rick Astley, followed by Dave Grohl it is!