VIDEO: Dave Grohl Gifts Jimmy Kimmel With His Severed Head
6 August 2018, 16:28 | Updated: 6 August 2018, 16:31
The Foo Fighters frontman gave the presenter a prop which was used when he performed with Alice Cooper.
Dave Grohl appeared on Jimmy Kimmel Live last week and gave the late night show presenter a gift that money can't buy.
The Foo Fighters frontman returned to the late night TV show and gifted Kimmel something left over from his stint hosting the show, when he stood in for Kimmel while his son was undergoing surgery.
Watch a snippet of the moment above, which Jimmy Kimmel Live shared on their YouTube channel.
Asked if he'd jammed with Alice Cooper before hosting the show, Grohl said: "We had jammed with Alice before, but you know he's such a legend, we grew up with him.
"All of his stage tricks he does, he has like the guillotine- and all the blood and stuff. I actually bought you a gift to repay the favour."
Grohl then retrieved a big black box from side of stage, with Jimmy Kimmel opening it to reveal a gruesome model of his severed head.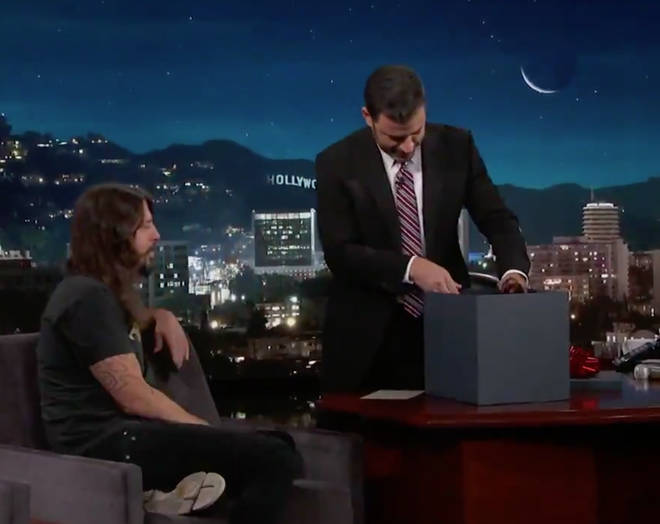 After the rocker recalled the stunt on the Jimmy Kimmel show, Grohl joked: "Then I took it home and scared my kids with it, I scared my housekeeper with it...
"Then it got to the point where I thought 'I gotta get this outta my house...'"
Watch the full clip here:
Alice Cooper wasn't the only star Grohl shared the stage with when he hosted Jimmy Kimmel Live.
At the request of the rocker - who revealed his daughters would be amazed if they jammed together - Kristen Bell performed Do You Want To Build A Snowman? from Frozen.
The actress - who voiced Anna in the Disney phenomena - also launched into a gruff version of Metallica's Enter Sandman. 
If that wasn't enough, the pair even dressed up for the occasion. It was Halloween after all.
Watch them in action here:
Watch Dave Grohl's impression of Christopher Walken when they met him on SNL: