Dave Grohl Talks Chance Of Adele On Next Foo Fighters Album
21 June 2018, 11:27 | Updated: 21 June 2018, 11:40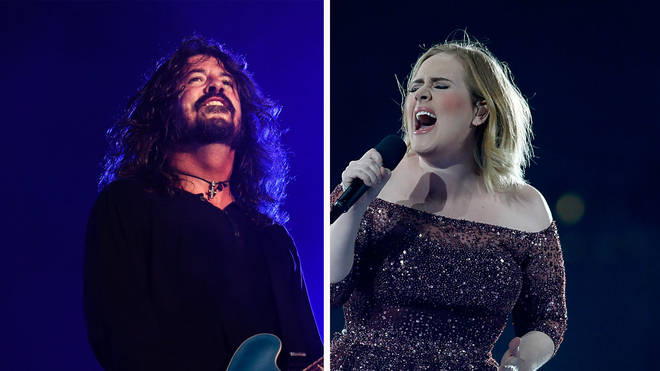 The Learn To Fly rocker has credited the British singer with helping his daughter Violet learn how to sing.
Dave Grohl has discussed the possibility of an Adele collab.
The Foo Fighters frontman has shared his hope of the Skyfall singer "maybe" appearing on their next record.
Speaking to The Sun, the rocker said: "Unfortunately it wasn't true [about her being on the last album Concrete and Gold ] but maybe next time."
The Learn To Fly rocker also credits the 30-year-old singer with helping his 12-year-old daughter Violet learn to sing.
"Violet would listen to Adele's records and just imitate and that's how she learned to sing," he revealed.
"At home there are instruments everywhere and her voice - she was born with it. Everybody loves Adele."
Watch the rocker duet with his daughter on Adele's When We Were Young:
See Grohl's nine-year-old daughter Harper play the drums with him on stage:
The 49-year-old rocker and his band are currently in the UK, and havbe already played one night at Manchester's Etihad Stadium.
This Friday and Saturday 22-23 June will see them touch down at the London Stadium, and to celebrate Radio X will be hosting a special Foo Fighters night on Sunday (24) June.
All day, you'll be able to choose your favourite Foo Fighters tracks, before hearing Dave Grohl chat to Gordon Smart from 1pm.
Then, for all of you who didn't manage to score tickets, from 7pm we'll be playing the full set from their Manchester's Etihad Stadium gig.