Dave Grohl never imagined Foo Fighters being bigger than Nirvana
28 November 2018, 13:52 | Updated: 28 November 2018, 13:55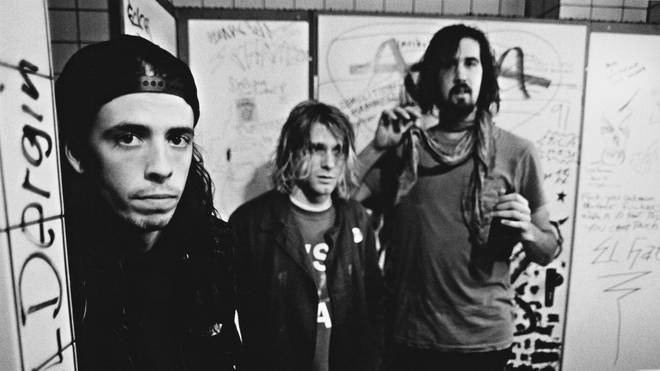 The Learn to Fly rocker has talked about the Foos' early days and how it would have been "insane" to predict their success.
Dave Grohl has opened up about Foo Fighters' success and admitted he never would have thought they'd be where they are now.
Grohl experienced mainstream success as the drummer of Nirvana, but his music career was almost cut short after the band's frontman Kurt Cobain tragically lost his life to suicide in 1994.
Nirvana only released three studio albums in Bleach (1989), Nevermind (1991) and In Utero (1993), going on to disband after Cobain's death.
Foo Fighters, which Grohl first formed as a one-man project in 1994, have gone on to release nine studio albums, win multiple awards, headline the world's biggest festivals and play mammoth tours across the globe.
As Alternative Nation reports, speaking of the band's unbelievable success in Billboard's Chart Beat Podcast, Grohl said: "I mean, anyone that would've imagined that happening is just fucking insane.
"If someone were to tell me we would be where we are now I would tell them they are wrong, that there's no way that's possible."
READ MORE: Dave Grohl reveals how Kurt Cobain's death made him cherish life
Watch Foo Fighters perform with Guns N' Roses on stage:
Revealing what spurred him on do a second Foos album after the 1995 eponymous debut, he said: "After that first record, we thought 'okay, well let's make one more.' and some of us were like, backpacking through Europe and we spent our life doing it but you gotta do it at least once, so we thought, okay let's do it again. This time, we'll get an established producer and we'll really work on it because the first one was just me, five days in the studio."
The Sky Is A Neighbourhood rocker continued: "So the ball kinda just kept rolling and it was a nice way to feel like life had direction and that there were things to look forward to, because I didn't want to get stuck in that place where I was when Nirvana ended. So, no I never, ever thought we would be in the place that we are in now..."
He concluded: "I'm proud of what the band has achieved, the biggest challenge is survival, and I don't mean in terms of a music career, I mean just in life, just to be able to survive as long as we have, we feel very fortunate, very blessed that we're still here, for sure."
Foo Fighters are set to top the bill at a a string of festivals in 2019, including Reading & Leeds, Sziget, and Glasgow Summer Sessions.
READ MORE: Foo Fighters 2019 UK tour dates tickets & more
Watch Dave Grohl reveal the best support act Foo Fighters ever had: