Dave Grohl Hits Back At Foo Fighters' Critics
6 June 2018, 06:00 | Updated: 6 June 2018, 12:07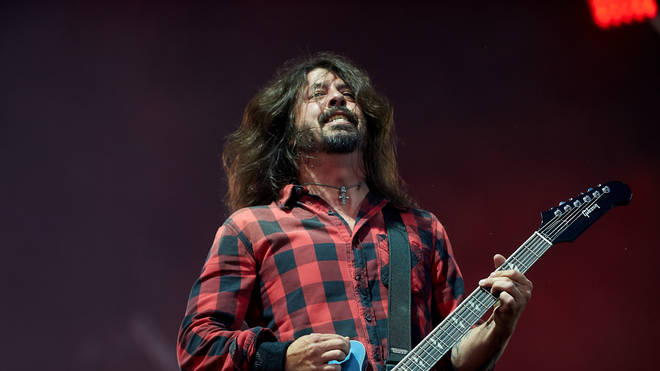 The Learn To Fly rocker has tackled the criticism that the band don't change their sound.
Dave Grohl has hit back at critics who say Foo Fighters never change their sound.
The 49-year-old frontman suggested he would never dream of changing his band's heavy rock style because it's part of their DNA.
Speaking to British Airways' High Life magazine, he said: "I've never felt the need to chase something else.
"And we get cursed for it: 'Oh God, it's another Foo Fighters record.' Well, yeah! I don't wanna make a reggae record."
The Everlong rocker also thinks that the band's brotherhood and the fact they don't have egos is the key to their longevity.
He said: "We are like brothers."It sounds trite but it's true. Imagine being on a family trip for 20 years. That's what it's like being in the Foo Fighters."
Watch Dave Grohl and Taylor Hawkins duet on Big Me as a fan plays the drums:
The US rock band - also formed of Taylor Hawkins, Pat Smear, Chris Shiflett and Nate Mendel - recently played Rock am Ring and are set to headline their own CalJam Festival, where the likes of Iggy Pop and Tenacious D will perform.
The band will no doubt pop up on various sets across the weekend, with last year seeing them share the stage with Liam Gallagher to perform The Beatles classic Come Together.
Watch Foo Fighters invite John Travolta on stage and sing Grease hit You're The One That I Want:
The former Nirvana drummer recently revealed what happened when he first joined the band.
"You know the very first thing that happened to me when I joined Nirvana?" he told GQ magazine.
"The very first time I stepped properly into the music industry and handed over my trust to someone else, outside of my punk-rock friends and family in DC? I got sued."Some piece of paper I signed in a van outside a Denny's diner when I was in a band called Scream, starving, nothing to lose, not thinking any of this would go anywhere.
"Then I signed with Nirvana and I got sued for $40,000 straight out of the gate because some guy said I was still under contract with him. And that sucked."