Dave Grohl Got The Best Revenge On His Ex Girlfriend
17 May 2018, 12:55 | Updated: 17 May 2018, 14:18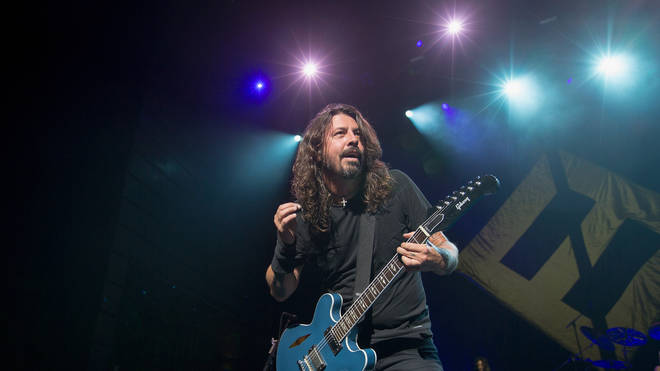 The Foo Fighters rocker has recalled a story about an early ex, a dream he had, and how it came true.
Dave Grohl is one of the nicest frontmen in rock, so when we heard he got revenge on an ex we could hardly believe it.
But according to celebretainment, in his recent interview with GQ the Foo Fighters frontman revealed he managed to get his own back on a very early flame twice... sort of.
Read his awesome story here:
Speaking to the outlet, he revealed: "I get very lucid dreams, have done my entire life.
"When I was 11 or 12, I fell for this new girl in my school, Sandy Moran ... Eventually, we got it together.
"I asked her out, she said yes and we were going steady. It was for like four days or something - ridiculous.
"Anyway, three or four days later she broke up with me and the very same night I had this dream.
"I was in an arena full of people and I'm at the front, shredding some guitar lead, the audience is going nuts, totally loving it.
"Then at the front down, I look down and there she is, Sandy, right in the front row. Crying her eyes out. She looks up to me and mouths, 'Dave, why did I break up with you?'
"The funny thing is that actually happened.
"We played a show in Washington, D.C., a couple years back. It was like a school reunion, about 400 of my old pals were there on the guest list.
"I hear from someone that Sandy wants to come down ... Sure as hell, I am on stage in my home town, same as the dream I had 35 years ago, ripping a guitar lead and I look out into the crowd and there she is, front row.
"Sandy f***ing Moran. She's not crying this time though, she's just looking at me, shaking her head like, 'You asshole.'"
Watch Dave Grohl become at a "dad" at a Foo Fighters' gig:
Dave Grohl had a stumble at a gig recently and by his own admission "almost just broke (his) fucking leg" again.
The Foos were halfway through their set at Florida's Welcome To Rockville on Tuesday 29 April, when the frontman tripped speakers and nearly fell on his face.
Watch the moment in a video shared on Instagram by discogrohl via Joseph Delsignore:
Speaking to the crowd after his slip, the Everlong rocker said: "I almost just broke my fucking leg!"
He added: "Here's the way I look at it: When you get that close to breaking your fucking leg, that means it's a good show...
"And say I did break my leg, you think I'd fucking home? You think this shit would be over? That's right motherfuckers. You're stuck with me now motherfuckers".
Back in 2015 when Grohl actually broke his leg, his injury eventually led to the band having to forgo their 2015 headline Glastonbury appearance, with Florence + The Machine taking their place on the Pyramid Stage.
At the time Florence Welch paid tribute to Grohl and the band by performing their Times Like These single, and in 2017 Grohl repaid the favour by playing the song back to her.

Watch the moment below: