This List Of "Banned" Items At A Foo Fighters Show Is Weird
5 February 2018, 10:38 | Updated: 5 February 2018, 15:03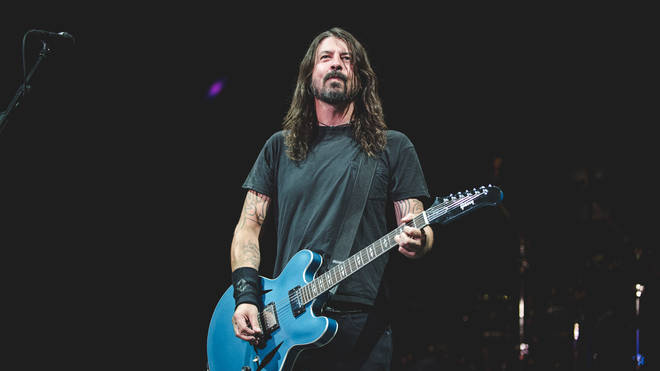 "Any pencil that isn't a number two pencil" and "legwamers" were not welcome at Sunday night's New Zealand show for Dave Grohl and co.
Fans who attended Foo Fighters' show in Auckland, New Zealand on Sunday night (3 February) were bemused to see a list of "prohibited items" that is usually posted outside a gig venue… only with a few utterly strange additions.
Alongside the usual list of forbidden stuff, such as fireworks, flares, weapons and laser lights were added a host of bizarre stuff that gig-goers weren't to take into the Mt Smart Stadium, including "unflattering photos of Ryan Seacrest" and "derogatory press clippings of Shania Twain".
Nestled among the serious bits were the following silly prohibited items (with some explanations of some of the more obscure entries)…
- Unflattering photos of Ryan Seacrest
- Mixtapes not in CD format
- Scythes
- Pirated VHS tapes of "Land Of The Lost", the series (cheap fantasy TV show from the 1970s about a group of people who wind up in a land of dinosaurs)
- Cream magazines that do no mention Ted Nugent (classic rock mag that ran between 1969 and 1989)
- Any mention of Friendster OR Webster (starring Emmanuel Lewis) (social gaming site + 1980s sitcom)
- Beige or mustard coloured macrame wall hangings
- Leg warmers
- Free radicals (including anti-toxidants or Hong Kong Phooey) (healthy foods + 1970s cartoon character)
- Derogatory press clippings of Shania Twain
- Any pencil that isn't a number two pencil
- Homemade nut milks
The Auckland date was the last in a run of Foo Fighters shows in Australasia, before the band move on to South America. The band play Manchester's Etihad Stadium on 19 June and the London Stadium on 22 and 23 June.