The Changing Hair & Style Of Biffy Clyro's Simon Neil
18 October 2018, 16:29 | Updated: 19 October 2018, 11:44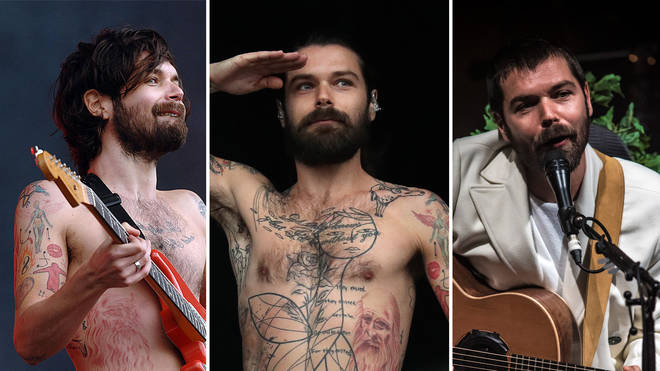 The Biffy Clyro frontman has continually transformed his look over the years. Look back over the Mountains singer's most distinctive hairstyles so far.
Biffy Clyro have spent a whopping 23 years together, releasing seven albums with another on its way.
Through the Scottish band's changing look and sound, one thing's for certain: their charismatic frontman Simon Neil has drastically transformed himself, his haircuts and his style throughout.
Whatever hair he has or style he chooses, it's pretty evident he can pull pretty much anything off.
Take a look at some of the key looks of the Scottish rocker here...
The Bearded Pre-Hipster

Biffy Clyro's Simon Neil at V Festival 2006.

Picture: Gary Wolstenholme/Redferns

Way ahead of his time, the rocker went for a very strong beaded look back at V Festival 2006.

We know it's pre-hipster not just because of the date, but because Simon Neil boasts a certain greasy look, which doesn't typify the hipster style nowadays.

The Kings Of Leon Locks

Biffy Clyro's James Johnston and Simon Neil at T in The Park 2007.

Picture: Andrew Milligan/PA Archive/PA Images

This early look from 2007 sees Simon Neil - pictured here with Biffy bassist James Johnston - looking every inch the indie heartthrob.

With the long hair, shirt, waistcoat and scarf combo he wouldn't look out of place with a Molly's Chambers-era KOL.

The Cool Curtains

Biffy Clyro's Simon Neil at the Union Chapel, Islington in central London in 2008.

Picture: PA/PA Archive/PA Images

Simon Neil really can rock any hairstyle at any length, and this one from 2008 is a real belter.

And that curl where his hair meets his beard? Inspired.

The Bleached Yeti

Simon Neil of Biffy Clyro performs at Reading Festival 2010.

Picture: Yui Mok/PA Archive/PA Images

Yes, this actually happened.

In 2010 the Many of Horror rocker bleached his hair AND beard. It was a short-lived look, and it was probably his least successful but he still managed to rock it and recover his long locks afterwards.

The Short Back And Sides

Biffy Clyro's Simon Neil at iTunes Festival 2012.

Picture: Dominic Lipinski/PA Archive/PA Images

The year is 2012, the gig is iTunes Festival and the look is worthy of a role in Inglorious Basterds.

The Heartbreaker

Aimon Simon Neil of Biffy Clyro performs at the 104.5 iHeart Performance Theater in 2013.

Picture: Jeff Fusco/Getty Images

Seriously, how quickly does his hair grow?

It's part curtained, part slicked-back, part greaser and yet somehow very boy next door.

Hipster Jesus

Biffy Clyro's Simon Neil in 2016.

Picture: Press

Yes it's a little bit like his prophetic bearded hipster of yesteryear, but this has a a particularly holy look.

That could be the extra long hair and beard combo... or because it coincided with a lot of dark trousers and toplessness.

The Topless Pirate Ponytail

Biffy Clyro's Simon Neil performs in Hull in 2017.

Picture: Danny Lawson/PA Archive/PA Images

This image, taken in 2017 sees Simon Neil as many of us know and love him. Very long-haired, wearing a ponytail and topless with his myriad of tattoos on show.

He's even giving us a cheeky salute.

Aye aye captain!

The Tin Tin Quiff

When he first cut his hair back in May, it wasn't shaved ala Arctic Monkeys' Alex Turner, but it did have a cheeky little quiff at the top.

The Back To Basics Crop

Biffy Clyro's Simon Neil performs in Berlin, Germany in 2018.

Picture: Frank Hoensch/Redferns

Yes, you saw that right, the Wolves Of Winter singer shaved off his long locks back in May this year and hasn't looked back since.

His wife was less than impressed with the change as he revealed to Radio X.

The Flamboyant Aunt

Simon Neil arrives at Camden's Roundhouse in 2018.

Picture: Dave J Hogan/Dave J Hogan/Getty Images

You'd might think Simon's hair and garb in the previous picture makes him look more like a librarian than a rock star, but what he lacks in hair he more than makes up for in his choice of outfits.

These days the Scottish singer continuously mixes things up with bright colours, over or under-sized garments and interesting silhouettes.

This oversized shirt is a perfect example of the shapes and colours we're used to seeing on the star.

For those who miss his long hair, I doubt we've seen the back of it for good.

Watch this space!