VIDEO: Paul McCartney Tells Off Crowd For Phones At Cavern Club Gig
27 July 2018, 12:50 | Updated: 29 July 2018, 20:16
The Beatles legend reminded the audience of his filming rules during his return to the historic Liverpool venue.
Sir Paul McCartney returned to The Cavern Club for a surprise one-off gig this Thursday (26 July).
The Beatles legend returned to the historic venue, where the Fab Four first made their mark in 1961.
Crowds gathered for the once-in-a-lifetime show, after queuing for first-come-first-served tickets at the Liverpool Echo Arena, but were told not to film or document the event on their smartphones.
Watch a snippet of the Hey Jude legend playing in a video taken by kieranmolyneux.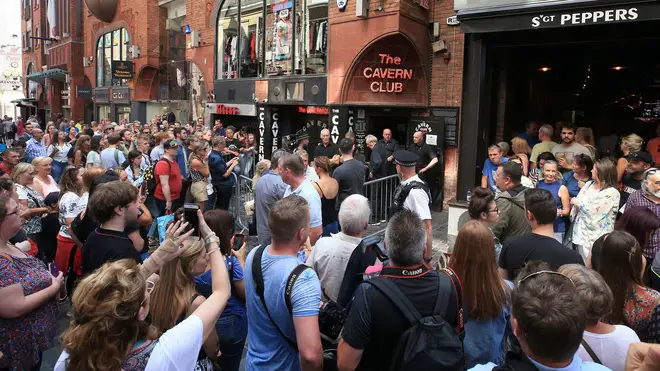 Understandably, the crowd of 175 lucky fans found it hard to adhere to the rules, seeing the famous Beatle perform live in the venue.
As the BBC reports, during his rendition of Eddie Cochrane's Twenty Flight Rock - which he played to audition for John Lennon in 1957 - Macca called a halt to his performance to give a few audience members a piece of his mind.
"I think you've all been told not to take photos," he said.
"And you're taking them, and you're taking them, and I don't want to get put off, and you're putting me off."
Paul McCartney went on to play a 27-song set, including The Beatles songs All My Loving, Love Me Do, Get Back, I Saw Her Standing There, and more.
It's not the first time Paul McCartney took a trip down memory lane.
Just this week he recreated The Beatles' famous Abbey Road cover by walking across a zebra crossing outside the famous studios.
Watch the moment below:
Macca returned to Liverpool earlier this summer for his epic edition of Carpool Karaoke.
Watch him return to Penny Lane with James Corden in our video: