How To Get Alex Turner's Hairstyle
24 July 2018, 12:47 | Updated: 24 July 2018, 15:30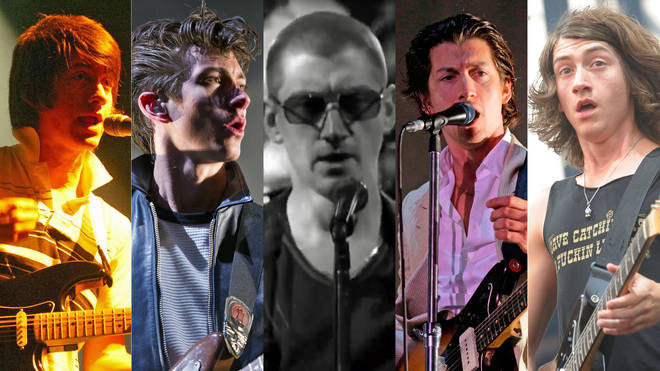 The Arctic Monkeys frontman has stunned fans by appearing on US TV with a shaved head. Here's how to keep up with the latest Alex Turner haircut.
Alex Turner: man, musician, chameleon. From the moment that Arctic Monkeys smashed onto the scene in late 2005, here was a frontman with charisma… and a penchant for changing his look every other week.
Let's take a step back through some of the best looks… and how you can emulate the legend. Just ask for one of THESE next time you're down the barbers'.
2018: The "Prison Convict"

Is this the most brutal, stark look that Alex Turner has worn? The singer debuted the dramatic change on The Late Late Show with Stephen Colbert on US TV, where the band performed their Tranquility Base Hotel and Casino track The Ultracheese. But how did it all begin? Let's go back to the beginning...

2006: The "Fresh Out Of College" Look

Arctic Monkeys live in France, 2006.

Picture: ALAIN JOCARD/AFP/Getty Images

Amazing to think that Alex Turner started off in 2005 with a regular lad-down-the-pub look. Things would change…

2006: The Brief "Caleb Followill In A Vest" Period

Alex Turner live in France, 2006.

Picture: BRUNO FERRANDEZ/AFP/Getty Images

This was a very short-lived style, somewhere between King Of Leon and building site labourer… The hair began to get shaggier, however.

2006: The "Ear-Long Reading Festival" Days

Arctic Monkeys live at Reading Festival, August 2006.

Picture: Jo Hale/Getty Images

The hair reached peak length when the Monkeys took to the main stage at Reading in 2006, just before Muse headlined. Impressive.

2007: The "Modest Glasto Trim"

Arctic Monkeys live at Glastonbury, 2007.

Picture: CARL DE SOUZA/AFP/Getty Images

The following summer, the locks had been tamed somewhat for the annual Glastonbury downpour - and it was a bit parky out, hence the jacket in the middle of June.

2007: The "John Lennon Moptop"

Arctic Monkeys live in Australia, 2007.

Picture: Jonathan Wood/Getty Images

Full-on Revolver-era hairdo for the band's tour to support Favourite Worst Nightmare.

2008: The "Age Of Fancy Dress"

Arctic Monkeys at the BRIT Awards, 2008.

Picture: Gareth Cattermole/Getty Images

A unique one-off when Arctic Monkeys arrived at the annual BRIT Awards dressed as country squires. What was the point? Who cares! It's a night out!

2009: The "Humbug" Mop

Arctic Monkeys live in New Jersey, 2009.

Picture: Bryan Bedder/Getty Images

As the sound of Arctic Monkeys changed, so did the hairstyle. Humbug was recorded with James Ford and Queens Of The Stone Age man Josh Homme out in California and Turner's hair started to relax and wig out a bit.

2010: The "Suave Poet"

Alex Turner at the Submarine premiere, October 2010.

Picture: Samir Hussein/Getty Images

Alex Turner wrote the music for the film Submarine - and his look at the premiere befits a "serious" artist. Very sensible.

2011: The "John Travolta In Grease" Look

Arctic Monkeys live at Lowlands Festival, 2011.

Picture: Marten van Dijl/AFP/Getty Images

Woah! We did not expect that. For 2011's Suck It And See album, Turner affected a full-on 1950s "greaser" look., complete with Fonz-like leather jacket.

2011: The "Post-Grunge Rock Star" Era

Arctic Monkeys live in Carlisle, 2011.

Picture: Yui Mok/PA Archive/PA Images

As the Suck It And See tour wore on, the quiff was tamed somewhat - too much hassle to do every night, Alex?

2013: The "Slicked-Back Romancer Meets Dracula"

Arctic Monkeys live in LA, 2013.

Picture: Kevin Winter/Getty Images for Radio.com

For 2013's AM tour, Turner brought back the pomade for another slicked-back look...

2018: The "BEARD"

Arctic Monkeys, 2018.

Picture: Zackerey Michael/Domino Records

When Arctic Monkeys came back with their first new album in five years, rumours swirled that Turner had grown facial hair. And it was true - but it didn't last long.

2018: The "Astral Lounge Lizard" Vibe

Arctic Monkeys at NOS Alive, July 2018.

Picture: JOSE MANUEL RIBEIRO/AFP/Getty Images

Tranquility Base Hotel & Casino was a high-concept album, so a high-concept style was needed. The beard was gone, the slicked-back look was back and bigger than ever and shades and safari suits were in fashion....