Arctic Monkeys' Albums Ranked From Worst To Best
7 April 2018, 16:00 | Updated: 15 May 2018, 16:25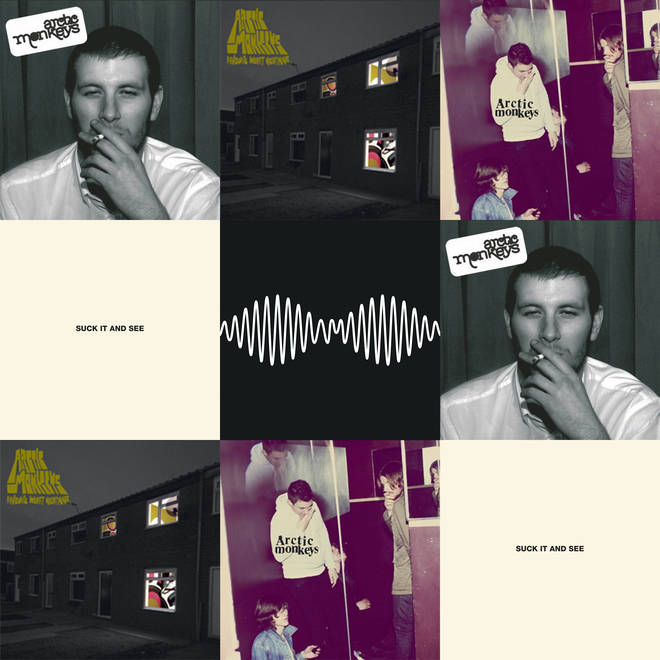 As the reviews roll in for Arctic Monkeys' Tranquility Base Hotel & Casino album, we look back at their first five studio releases.
Suck It And See (2011)

Arctic Monkeys - Suck It And See.

Picture: Artwork

Well… something has to come last doesn't it? Arctic Monkeys' fourth album, which was produced by long-time collaborator James Ford, saw the band cut back from the heavier production of Humbug and opt for a more laid-back approach-with much of it recorded in live takes. Written in New York and London and recorded in LA, the album boats solid tracks in Black Treacle and Don't Sit Down 'Cause I've Moved Your Chair, which sees them ditch those dangerous riffs for more a psychedelic sound. However, it still doesn't quite make the same impact as their other completed works. Plus, we're giving them a D for effort when it comes to that album artwork…

Favourite Worst Nightmare (2007)

Arctic Monkeys - Favourite Worst Nightmare.

Picture: Artwork

There's no denying that Favourite Worst Nightmare packs a serious punch. After all, trying to better one of the most successful debut albums of all time meant the Sheffield rockers had to come fighting. Aggressive and unapologetic in the likes of its opener Brianstorm, Alex Turner didn't forget about those lyrics we'd fell in love with in their debut, giving us some unforgettable lines in the likes of Fluorescent Adolescent and Teddy Picker. Their sophomore album may not be their very best, but it's still produced some of the band's best-loved tracks.

Humbug (2009)

Arctic Monkeys - Humbug.

Picture: Artwork

The Josh Homme-produced LP saw the band take on the sounds of the California desert and experiment with more instruments than ever before. The sumptuous My Propeller and the goullish Crying Lightning and The Jeweller's Hands are just some examples of the mystical affect which came about as a result of their heavier production techniques and more layered sound. Packed with xylophones, glockenspiels and keyboards galore, this album took the rockers up another notch, and prepared us for what was eventually to come in 2013… Plus it produced an undeniable fan favourite in Cornerstone.

AM (2013)

Arctic Monkeys - AM.

Picture: Artwork

A favourite among the fans and the critics alike, AM proved how committed Arctic Monkeys were to innovating. Just when we thought we had a hold on their sound, Alex Turner and co. came along and completely blew our minds again. Taking influences from Hip-Hop and R&B, AM saw the band shrug off their kings of indie rock'n' roll status and reach higher and further than they ever had before. Tracks in Do I Wanna Know?, Are U Mine? and Why'd You Only Call Me When You're High? are perfect examples of a band who'd experienced immense success, seen the world, and grown up as a result.

Whatever People Say I Am, That's What I'm Not (2006)

Arctic Monkeys - Whatever People Say I Am, That's What I'm Not.

Picture: Artwork

Now we know it seems like a bit of a cop out to name Arctic Monkeys' debut as their best album, but there is a reason why it was such a success. Absolutely smashing straight out of the gates with observational The View from the Afternoon and following it up with arguably the best indie club bangers of all time in I Bet You Look Good on the Dancefloor, if the album had stopped there it would probably have still been influential. But - packed to the brim with bangers, witty lyrics and Yorkshire charm - Whatever People Say I Am, That's What I'm not is the gift that seems to keep on giving, not only proving what promise the Sheffield band had back then, but how much their early work still stands up over 12 years later.
Play our quiz here: