What does Glastonbury look like from the air?
26 June 2020, 12:52 | Updated: 22 June 2022, 16:29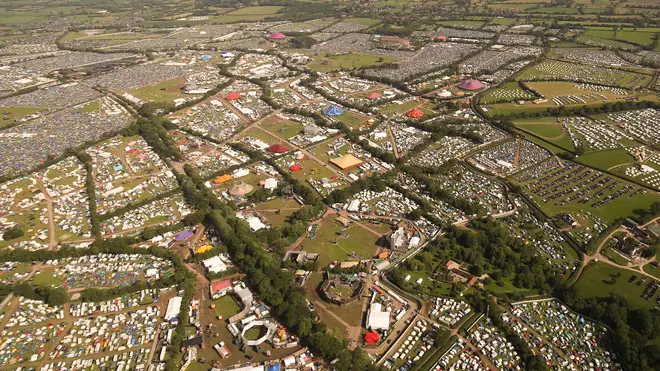 Take a look at how Worthy Farm is looking from high in the air… can you spot yourself?
Glastonbury 2022 is underway! Across the weekend of 24 to 26 June, 200,000 people will attend the festival, which sees Billie Eilish, Paul McCartney and Kendrick Lamar all headline the Pyramid Stage.
The festival takes months of months of planning - and a huge amount of resource goes in to putting on the event.
According to the Glastonbury Free Press newspaper, the Pyramid Stage alone has 354 microphones, 292 speakers, 3,743 lightbulbs and 8.5km of cable for video and audio.
It's a long way from the very first Glastonbury, which saw glam superstar Marc Bolan perform for a ticket price of £1 (and free milk).
Glastonbury from the air - looking towards Park Farm and the Silver Hayes area

An aerial view of the camping site on the second day of the Glastonbury Festival at Worthy Farm in Somerset. Picture: Aaron Chown/PA Wire/PA Images

Glastonbury from the air - looking down on one of the main roads and camping areas

An aerial view of the camping site on the second day of the Glastonbury Festival at Worthy Farm in Somerset, 27 June 2019.

Picture: Aaron Chown/PA Wire/PA Images

Glastonbury from the air - the theatre and circus area with the Big Top and helter skelter clearly visible

An aerial view of the camping site on the second day of the Glastonbury Festival at Worthy Farm in Somerset, 27 June 2019. Picture: Aaron Chown/PA Wire/PA Images

Glastonbury from the air - the Big Top and West Holts stage in the foreground, with The Other Stage in the background

An aerial view of the camping site on the second day of the Glastonbury Festival at Worthy Farm in Somerset, 27 June 2019. Picture: Aaron Chown/PA Wire/PA Images

Glastonbury from the air - can you remember where you've camped?

An aerial view of the camping site on the second day of the Glastonbury Festival at Worthy Farm in Somerset, 27 June 2019. Picture: Aaron Chown/PA Wire/PA Images

Glastonbury from the air - beautifully coloured luxury tents!

An aerial view of the camping site on the second day of the Glastonbury Festival at Worthy Farm in Somerset, 27 June 2019. Picture: Aaron Chown/PA Wire/PA Images

Glastonbury from the air - the Tipi Field

An aerial view of the camping site on the second day of the Glastonbury Festival at Worthy Farm in Somerset, 27 June 2019. Picture: Aaron Chown/PA Wire/PA Images

Glastonbury from the air - festival-goers queue for the toilets

An aerial view of festival goers queuing for the toilets on the second day of the Glastonbury…. Picture: Aaron Chown/PA Wire/PA Images