This is what the Glastonbury Festival site always looks like on Monday morning
28 June 2021, 10:00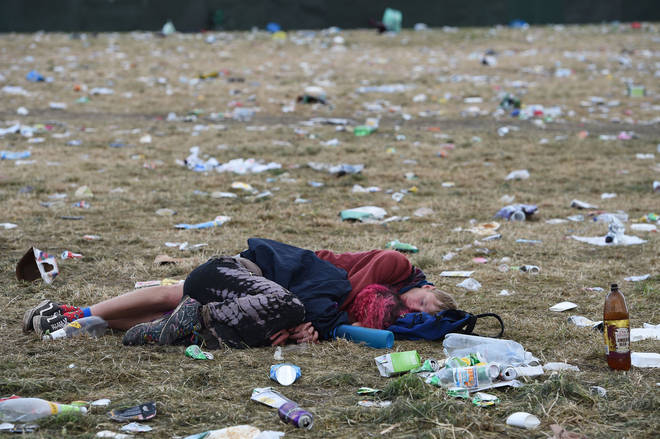 When thousands of people go home after a festival, the site is often left covered in rubbish and debris. This is what Glastonbury looked like the day after it ended in 2019...
Glastonbury 2019 delivered five full days of merriment and three huge headliners.
Stormzy silenced his critics during his historical set on the Friday night of the festival, The Killers put on an indie extravaganza with special guests in the Pet Shop Boys and Johnny Marr, and the weekend was capped off by a career-spanning performance from legendary goth rockers The Cure.
And, with both the 2020 and 2021 festivals called off because of the COVID-19 pandemic many people have been looking back over previous events across the weekend. If the festival had gone ahead in 2021 as planned, this is the sort of thing that organisers at Worthy Farm would be looking at this morning.,,,
Festival-goers return to their tents in the early hours of Monday morning as the clean-up begins

Festival goers return to their tents and leave the camp as clean up begins at the Glastonbury Festival at Worthy Farm in Somerset.

Picture: Aaron Chown/PA Wire/PA Images

Rubbish is stacked on top of Glastonbury's famous painted bins

Rubbish is stacked on top of Glastonbury's famous painted bins.

Picture: Aaron Chown/PA Wire/PA Images

Festival goers queue to exit the festival

Glastonbury Festival 2019 leavers queue to leave the festival. Picture: Leon Neal/Getty Image

Bottles and bags lie discarded in front of the Pyramid Stage

Clean up begins at the Glastonbury Festival at Worthy Farm in Somerset.

Picture: Aaron Chown/PA Wire/PA Images

Clean up begins in front of Glastonbury's main stage

Clean up begins in front of the Pyramid Stage at the Glastonbury Festival at Worthy Farm in Somerset.

Picture: Aaron Chown/PA Wire/PA Images

Just some of the rubbish left on site at Worthy Farm

Rubbish left behind at the Glastonbury Festival at Worthy Farm in Somerset.

Picture: Aaron Chown/PA Wire/PA Images

Bottles and paper cups line steps at Glastonbury 2019

Rubbish left behind at the Glastonbury Festival at Worthy Farm in Somerset.

Picture: Aaron Chown/PA Wire/PA Images

A huge team continue with the clean-up effort at Worthy Farm

Clean up begins in front of the pyramid stage at the Glastonbury Festival at Worthy Farm in Somerset.

Picture: Aaron Chown/PA Archive/PA Images

There's still a fair way to go...

Festival goers leave the camp as clean up begins at the Glastonbury Festival at Worthy Farm in Somerset. Picture: Aaron Chown/PA Archive/PA Images