Noel Gallagher: Guns N'Roses headlining Glastonbury is "mad"
22 June 2023, 11:39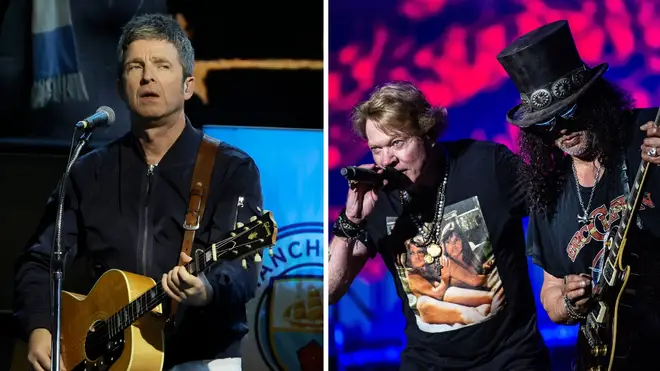 The former Oasis chief claims that the US rockers topping the bill at Worthy Farm is "crazy sh*t"
Noel Gallagher thinks that Guns N'Roses headlining Glastonbury on Saturday night is a "mad" idea, considering "all the huge British artists who've had albums out this past year".
Asked by The Daily Star what he thought of the weekend's events at Worthy Farm, the former Oasis man and current leader of the High Flying Birds said he was baffled.
"When I found out Guns N'Roses are headlining Glastonbury, I thought, 'What? Are you being serious? That's crazy sh*t'.
"When you think of all the huge British artists who've had albums out this past year, having Guns N' Roses headlining the Saturday is mad."
Noel - who released his fourth solo album Council Skies at the beginning of this month - also confirmed that we won't be attending Glastonbury this weekend as he's currently in the US on a co-headlining tour with Garbage.
He said: "I would have been smart to play Glastonbury this year, but I played it last year because I'd been booked to do it in 2020 and everything got pushed back.
"There's always next year to go back to Glastonbury - I'm not going anywhere.
"Because of lockdown, the band hadn't played together for ages - and touring again is joyous."
Noel Gallagher on his new album Council Skies and more
The summer of 2023 will see Noel Gallagher's High Flying Birds play a number of smaller festivals, including Pennfest in Buckinghamshire, Splendour Festival in Nottinghamshire, South Facing Festival at Crystal Palace and the Radio X-sponsored On The Beach on Brighton beach at the end of July, which will also feature Royal Blood.
Noel explained: "What I like about boutique festivals is that pretty much everyone will go to see you.
"That makes the festival more like one of our own gigs. You won't get new fans out of it, but you'll have a great night."
Noel Gallagher recently talked Radio X's John Kennedy through his latest album Council Skies as part of the X-Posure Track By Track podcast - listen here on Global Player.