Here's what Blink 182 played at their Coachella weekend two headline set
24 April 2023, 15:01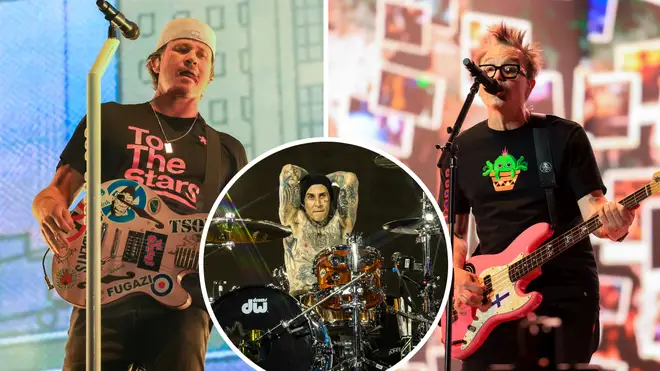 The band returned to headline the festival a week later after Frank Ocean was forced to pull out due to a leg injury.
Blink 182 headlined the second week of Coachella just one week after their last minute performance at the festival.
The pop punk rockers - comprised of Mark Hoppus, Travis Barker and the band's returning co-founder Tom DeLonge - played their first reunion set in their classic line-up at the festival last week, performing at the Sahara Tent on Friday 14th April for their fans.
However, just nine days later the All The Small Things outfit went on to replace Frank Ocean's set on Sunday 23rd April, after the artist was forced to pull out due to leg injury.
READ MORE: Here's what Blink 182 played at their first Coachella gig...
Taking to the main stage on Sunday night, the band opened with their favourite opener, Family Reunion, before launching into Anthem Part Two and The Rock Show.
This time around, the band treated fans to Stay Together for the Kids and Always, giving both their first live outings since 2018 and 2017 respectively.
READ MORE: Mark Hoppus wasn't recognised by Blink 182 fans in London
After playing their iconic ballad I Miss You and their First Date anthem, the trio chose to end their epic gig the same way they did the week before, bringing the 18-song-set to a climax with All the Small Things and Dammit.
The festival was then closed by a special set from Skrillex, Fred Again... and Four Tet.
Blink 182 at Coachella weekend 2, 23rd April 2023:
Family Reunion
Anthem Part Two
The Rock Show
Man Overboard
Feeling This
Reckless Abandon
What's My Age Again?
Dumpweed
EDGING
Aliens Exist
Stay Together for the Kids (First time played since 2018)
Happy Holidays, You Bastard
Always (First time played since 2017)
Down
I Miss You
First Date (with Ramones "Pinhead" intro sang by Mark, and "Blitzkrieg Bop" intro sang by Tom)
All the Small Things
Dammit (With Skee Lo "I Wish" tease)
READ MORE: Tom DeLonge: Blink 182's new album is "the best we've ever made"