The worst love song lyrics of all time
12 February 2021, 18:00 | Updated: 14 February 2022, 12:59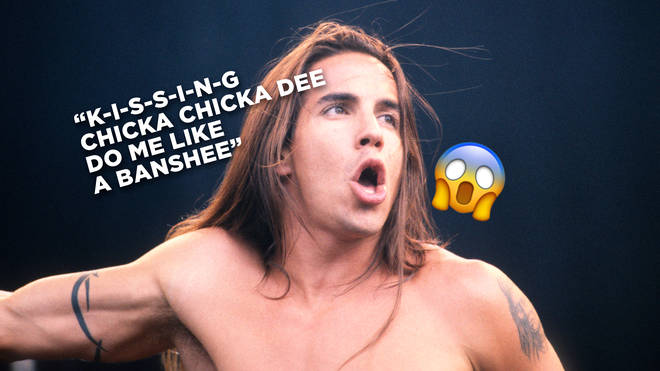 Sometimes the course of true love doesn't always go to plan. Especially if you use any of these perplexing and occasionally nauseating lyrics on your Valentine's card...
Love is in the air... with Valentine's Day upon us, we're expecting a lot of loving playlists to be compiled to show how much you care. For the sake of your relationship, DON'T include any of these sleazy, odd, laughable or just plain bizarre songs...
"K-i-s-s-i-n-g / Chicka chicka dee / Do me like a banshee / Low brow is how / Swimming in the sound / Of bow wow wow / Aw, baby, do me now / Do me here I do allow."

Red Hot Chili Peppers - Suck My Kiss. Classic Kiedis.

"And I met a girl / She asked me my name / I told her what it was."

Razorlight - Somewhere Else. Meanwhile, over at the Johnny Borrell Charm School: how to make a great first impression.

"No matter where I roam / I will return to my English Rose / For no bonds / Can ever tempt me from she."

The Jam - English Rose. Paul Weller almost sinks this lovely song with some terrible grammar.

"I did it all for the nookie / The nookie / So you can take that cookie and stick it up your yeah / Stick it up your yeah."

Limp Bizkit - Nookie. You stay away from my "yeah", Fred Durst!

"Love - the kind you clean up with a mop and bucket."

Bloodhound Gang - The Bad Touch. We could have put the whole lyric in there, to be honest.

"She may contain the urge to run away / But hold her down with soggy clothes and breezeblocks."

Alt-J - Breezeblocks. Why you shouldn't go on a date with Alt-J.

"There were times when I could have strangled her / But you know I would hate anything to happen to her."

The Smiths - Girlfriend in a Coma. Make your mind up, Moz. Kitchen sink drama goes a step too far.

"Touching you, touching me / touching you, God you're touching me."

The Darkness - I Believe In A Thing Called Love. Alright! We get the picture, Justin.

"I've had relations with girls from many nations / I've made passes at women of all classes."

Billy Bragg - Sexuality. Bragg by name, brag by nature, eh Billy?

"Let me put my love into you babe / Let me cut your cake with my knife."

AC/DC - Let Me Put My Love Into You. From brutal image to coy metaphor in one line - that's the grubby genius of Acca Dacca.

"Honey, I miss your two tone kisses / Legs wrapped around me tight / If I ever get back to New York, girl / Gonna make you scream all night."

The Rolling Stones - Star Star. The 1970s were definitely a different country - and this is one of the cleaner lines from "Sir" Mick in this song.