Things you didn't know about The Verve's Urban Hymns album
29 September 2020, 10:30 | Updated: 29 September 2020, 11:15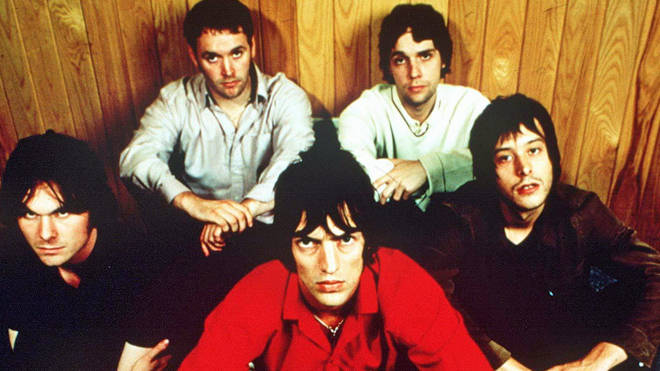 Richard Ashcroft and co released their third, iconic studio album on 29 September 1997. But did you know all these facts about this classic?
Urban Hymns could have been a solo album

Richard Ashcroft in 2002. Picture: Gie Knaeps/Getty Images

Richard Ashcroft claims his original plan was to release the songs he wrote for Urban Hymns under his own name, but he lost his bottle and was "fearful" of going it alone.

It saw the band go from a four-piece to a five-piece

The Verve in 1997: Nick McCabe, Pete Salisbury, Simon Tong, Simon Jones and Richard Ashcroft. Picture: Roger Sargent/Shutterstock

Following an an acrimonious split after they released their A Northern Soul (1995) album, Ashcroft reformed the group with Simon Tong on guitar in 1996.

But when recording started on the new record, he soon realised he needed Nick McCabe's unique style on guitar to complete The Verve's sound. Tong remained on guitar, keyboard and organ, turning the band into a five-piece.

The album missed out on a Mercury Prize in 1998

Ashcroft and co's third studio album album was recognised alongside the likes of Pulp's A Different Class and Massive Attack's Mezzanine, but they eventually lost to Gomez's Bring It On.

Liam Gallagher features on the album… Twice

Liam Gallagher onstage with Oasis in 1997. Picture: Bernd Muller/Redferns/Getty Images

The Oasis legend provides backing vocals on Come On and handclaps on Space and Time.

According to Ashcroft, Gallagher goes absolutely "ballistic" towards the end of their Come On track, screaming and smashing the tambourine against the recording booth walls.

The album artwork was designed by Brian Cannon and shot in Richmond Park

The Verve's Urban Hymns album cover.

Picture: Press

The now famous Britpop-era artwork designer came from the same place as The Verve and thought the Wigan band were going to be huge.

Cannon - who also designed their first two records - was told by Ashcroft himself he just wanted the fans to "just listen to the f**king record," which explains its simplicity.

Sonnet was almost not released as single

Speaking to Radio X, Ashcroft agreed the ballad was "powerful" and "beyond him", but initially the band didn't even want to release it.

It came about as a result of their record label asking them to put out a fourth single from the album - an idea which the band weren't on board with at first because they didn't want to milk it.

Bitter Sweet Symphony is NOT the biggest hit on the album

The iconic track reached No.2 on the UK singles charts while The Drugs Don't Work scored a UK No.1. This is probably just as well considering their huge legal battle with The Rolling Stones' former management, which saw Ashcroft lose millions of pounds worth of royalties and Mick Jagger and Keith Richards added to the Bitter Sweet Symphony songwriting credits.

However Ashcroft isn't too bitter about Bitter Sweet nowadays, calling The Rolling Stones - who he supported on their 2018 No Filter tour Manchester date - an "institution".

The Stones have since allowed Richard Ashcroft to be credited as a songwriter on his iconic track.