Why is The Killers' second album called Sam's Town?
5 October 2019, 15:30 | Updated: 13 February 2020, 18:39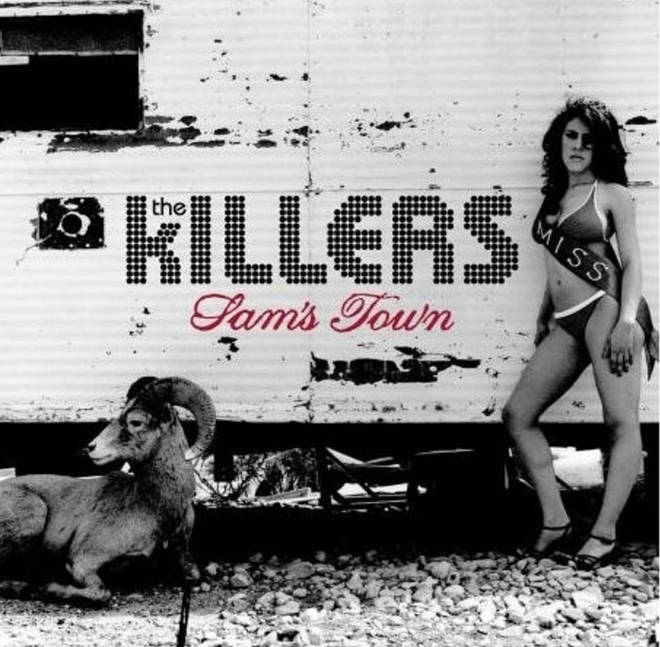 Brandon Flowers and co's sophomore outing gave the world the hits Read My Mind, When You Were Young and Bones, but what inspired the title?
As debut albums go, Hot Fuss is hard to beat. It launched The Killers onto an unsuspecting world in 2004, and its glamorous, Brit-influenced indie rock 'n' roll gained them thousands of fans.
So when the time came to follow it up, the band looked closer to home for inspiration - namely, their hometown of Las Vegas, Nevada.
READ MORE: Why Mr Brightside is The Killers' saddest song
Frontman Brandon Flowers was quite open in admitting that The Killers were his attempt to emulate his British musical heroes.
The band took their name from the video to Crystal by the Mancunian legends New Order. In it, Bernard Sumner and his colleagues are replaced by a fictitious, younger group called - you guessed it - The Killers.
And it was seeing a show by Oasis in Vegas that set young Brandon on his journey to pop superstardom.
For the band's second album, released in October 2006, The Killers decided to name it after a casino and hotel that resides at 5111 Boulder Highway.
WATCH: Brandon Flowers' favourite Killers song is a Sam's Town classic
Sam's Town Hotel And Gambling Hall was opened on 1 April 1979 by Sam Boyd and his son Bill, who had been in business as Boyd Gaming since the mid 1970s. Sam Boyd had moved to Vegas with his family in 1941 and he quickly worked his way up from dealing at the tables to owning some of the biggest and most successful casinos on the strip.
Sam's Town was designed to attract local, rather than tourist, trade and the venue's sign was visible through Killers bassist Mark Stoermer's childhood bedroom window.
As the official Sam's Town Facebook page says: "Sam's Town is nestled in the shadow of the Sunrise Mountains, just a few quick miles from the Las Vegas Strip. Sam's Town boasts 646 elegantly appointed rooms and suites. Choose a room overlooking the bubbling brook and trees of the Mystic Falls Indoor Park or opt for a view of the glittering city lights and majestic mountains surrounding the Las Vegas Valley."
Nice!
The Sam's Town Logo shop is located in the beautiful Mystic Falls Park and provides our guests with a variety of sundries, logo items, and souvenirs. pic.twitter.com/2Uj1emQFb7

— Sam's Town Las Vegas (@samstownlv) June 20, 2018
The band were huge Anglophiles, they liked the idea of creating their own mystique about their hometown, the same way New Order and The Smiths did with Manchester with references to exotic Northern locales like Rusholme and Strangeways.
"When I was growing up in Las Vegas, England just seemed so far away… a genuine fantasy-land," Flowers told Nick Kent in the Guardian at the time of Sam's Town's release.
"I couldn't stop myself from adopting an English way of expressing my lyrics, even though I'd never even been to Manchester back then. This time I wanted to sound more like someone who comes from the Mojave desert, which is where I'm actually from."
The Killers took this aesthetic to the cover of the album - while Hot Fuss has a nondescript shot of some skyscrapers in Shanghai, the follow-up was photographed by Anton Corbijn, best known for his work with U2, R.E.M. and Depeche Mode.
Corbijn admitted that the band wanted "a chic, gypsy look" and that the result was designed to depict "faded glory".
QUIZ: Do You Know The Lyrics To The Killers' When You Were Young?
Sam's Town took The Killers to another level - and ten years after the LP's release, the band marked the anniversary with a special two day celebration at the very casino that gave the record its name.
"Vegas will always be our home. I was born and raised here," Brandon joked to Rolling Stone magazine. "I'll always have some sort of umbilicus to this god-awful place!"
Fancy a trip to Sam's Town? Check out their website here: www.samstownlv.com
READ MORE: What did The Killers perform at their headline Glastonbury 2019 set?