The Killers find "no corroboration" of sexual assault claims on 2009 tour
4 August 2020, 11:13 | Updated: 4 August 2020, 11:34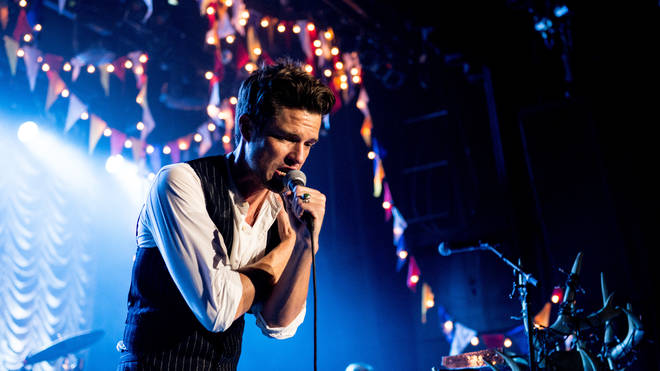 Brandon Flowers and co's legal team set up an investigation last week after an allegation made by their former sound engineer.
The Killers have found no evidence to support the allegations of sexual assault on their 2009 tour.
Last week, the band's legal team launched an investigation after a sound engineer alleged she heard crew members bragging about engaging in sexual activity with an incapacitated woman in a dressing room.
Now, as reported by BBC News, after talking to the sound engineer, the venue staff and the alleged victim, the Las Vegas outfit's legal team say they have found "no corroboration" of the claims.
In a lengthy statement shared with the outlet, the legal team concluded that the "accusations of sexual misconduct and a sexual assault backstage... were discovered to be entirely unfounded".
They added that Chez Cherrie had worked on the 2009 tour for three weeks in April, but much of the information she gave she admitted "she shared from a second or third hand source".
They also stressed that Chez Cherrie "confirmed that she did not witness the alleged events herself".
READ MORE: The Killers respond to 2009 US tour sexual misconduct claims
The team also revealed that "that dressing rooms are not, and have never been, labelled alphabetically, and at that time the dressing rooms were interconnected and without doors".
The catering team who were interviewed also said "at no point did they see or hear of a drunk or naked woman in any dressing room".
The alleged victim was also traced "via touring records" and was interviewed as part of the investigation and didn't report any foul play.
"The guest in question confirmed that she and her friend were backstage after the show, did not witness any 'train' or 'line-up,' nor were they left behind in the dressing rooms at the venue," the statement said."
She stated that she and the same friend attended Lollapalooza Festival 2009 later that year, where they were on the band's production guest list.
However, in their investigations, the legal team did find the that a front house engineer on the tour was identified by several crew members as "a problematic workmate" whose "sexist remarks and rude comments" towards Cherrie and treatment of others "was frequently deemed unfair by those who witnessed it".
"The band believe there should always be an easy way to report a situation that is concerning to anyone on the road with them, no matter their status or how briefly they are joining for," their lawyers said.
"They expressed regret that the temporary crew member was made to feel unsafe and bullied during her brief time with the band and understand that it is not always feasible for touring crew to raise concerns with their immediate superiors."
The statement ended: "The Killers would like to take this opportunity to assure their fans - and the families of their current crew - that their tours are a safe, familial and professional working environment."
READ MORE: Gorillaz respond to sexual assault claims against drummer on 2017 tour
Cherrie also responded with a statement to the BBC, saying she was grateful that the band had taken her experience seriously and she was "beyond relieved" the alleged victim is "reportedly fine".
The sound engineer did say she had "conflicting feelings" about some if the investigations findings, including "generalised statements" she "didn't agree with".
She added: "I hope that this moment is a learning experience for the entire industry and that we are able to come together in comprehensive manner to have these discussions that are so long overdue.
She added: "I hope that we are able to work together to develop a framework of reporting mistreatment and harassment that protects workers and fans and demands accountability of the people in power."
SupportLine
Tel: 01708 765200
Rape Crisis
Living Without Abuse
lwa.org.uk/understanding-abuse/abusive-relationships/emotional-and-psychological-abuse
Tel: 0808 80 20 200 28
NSPCC
Tel: 0808 800 5000 (24 hours, every day)
Refuge
Tel: 0808 2000 247
Victim Support
Tel: 0808168 9111
The Samaritans
Tel: 116 123
Mind
Tel: 0300 123 3393