Noel Gallagher announces new album Council Skies
17 January 2023, 11:29 | Updated: 18 January 2023, 13:13
Noel Gallagher on his new album Council Skies and more
The former Oasis man has also unveiled a brand new single, Easy Now - listen here
Noel Gallagher's High Flying Birds have announced the details of a brand new album and single.
The former Oasis star will release Council Skies on the Sour Mash label on 2nd June 2023.
Council Skies is the fourth High Flying Birds album, following 2011's self-titled debut, Chasing Yesterday (2015) and Who Built The Moon? (2017). 2021 saw Noel mark ten years of being a solo artist with the compilation Back the Way We Came: Vol. 1 (2011–2021).
The album is available to pre-order from www.noelgallagher.com now.
With the announcement comes the unveiling of a brand new psychedelica-tinged single, Easy Now.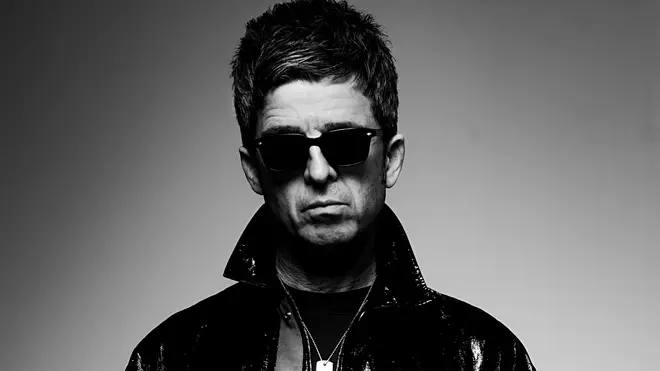 Council Skies takes its title from a book by the artist Pete McKee and reflects the album's theme of youthful ambition, as Noel explains. "It's going back to the beginning. Daydreaming, looking up at the sky and wondering about what life could be... that's as true to me now as it was in the early '90s. When I was growing up in poverty and unemployment, music took me out of that."
He added: "Top Of The Pops on TV transformed your Thursday night into this fantasy world, and that's what I think music should be. I want my music to be elevating and transforming in some way."
Council Skies will be available on CD, heavyweight vinyl with a bonus 7", plus deluxe limited edition 3LP and 2CD sets featuring a remix of Pretty Boy by The Cure's Robert Smith and Pet Shop Boys' take on Think Of A Number.
When is Noel Gallagher's new album released?

Noel Gallagher's High Flying Birds will release Council Skies on the Sour Mash label on 2nd June 2023. The new album features performances from Johnny Marr on three tracks, including the recent single Pretty Boy.

Noel Gallagher's High Flying Birds - Council Skies album track-listing

 I'm Not Giving Up Tonight
Pretty Boy
Dead To The World
Open The Door, See What You Find
Trying To Find A World That's Been And Gone
Easy Now
Council Skies
There She Blows!
Love Is A Rich Man
Think Of A Number
We're Gonna Get There In The End (bonus track)

Deluxe Album Tracklist:

Disc 1:

I'm Not Giving Up Tonight
Pretty Boy
Dead To The World
Open The Door, See What You Find
Trying To Find A World That's Been And Gone
Easy Now
Council Skies
There She Blows!
Love Is A Rich Man
Think Of A Number 

Disc 2:

Don't Stop...
We're Gonna Get There In The End
Mind Games
Pretty Boy (Instrumental)
Dead To The World (Instrumental)
Council Skies (Instrumental)
Think Of A Number (Instrumental)
I'm Not Giving Up Tonight (David Holmes Remix)
Think Of A Number (Pet Shop Boys Magic Eye 12" Remix)
Pretty Boy (Robert Smith Remix)
Council Skies (The Reflex Revision)
Flying On The Ground (Radio 2 Session, 08.09.21)
You Ain't Goin' Nowhere (Radio 2 Session, 08.09.21)
Live Forever (Radio 2 Session, 08.09.21)

What is the name of Noel Gallagher's new single?

Noel's latest track is Easy Now, which was unveiled the same day as Council Skies was announced. The video stars Milly Alcock, who recently starred as Princess Rhaenyra Targaryen in the HBO series House Of The Dragon plus a cameo from Noel himself.

Noel Gallagher's High Flying Birds - Easy Now (Official Video)

Who took the cover photo for Council Skies?

The cover art for the new High Flying Birds album shows Noel Gallagher's live set-up situated on the spot of the former Maine Road football ground in Manchester. The picture was taken by Mancunian photographer Kevin Cummins, who has worked with Joy Division/New Order, The Smiths and Morrissey.

Noel Gallagher's High Flying Birds - Council Skies album cover.

Picture: Press

How many solo albums has Noel Gallagher released?

Noel Gallagher's High Flying Birds have released three studio albums and one compilation:

Noel Gallagher's High Flying Birds (2011)
Chasing Yesterday (2015)
Who Built The Moon? (2017)
Back The Way We Came: Vol 1: (2011-2021) (compilation of Noel's first 10 years as a solo artist)
Council Skies (2023)

Noel Gallagher's High Flying Birds - Pretty Boy (Official Lyric Video)

When is Noel Gallagher playing live next?

Noel Gallagher's High Flying Birds will be playing the following dates in the UK this summer in support of Council Skies.

More headline shows are promised before the end of the year.

Noel Gallagher's High Flying Birds - 2023 UK live dates

21st July PennFest, Buckinghamshire
28th July South Facing Festival, Crystal Palace Bowl, London
5th August Heritage Live, Audley End, Saffron Waldon, Essex
19th August Orchard Live, Caldicot Castle, Monmouthshire
20th August Hardwick Festival, Sedgefield, County Durham
26th August Wythenshawe Park, Manchester